In the last few COVID years, owning a folding bike becomes more difficult for average consumers. Their prices increase dramatically and become out of budget for many of us. Dahon made a special edition folding bike called Dahon HIT to fight the pandemic. According to the company, they managed to offer the bike at an affordable price by reducing profit margin. Considering the fact that the Dahon HIT costs almost the same price as a Dahon Mariner I purchased 7 years ago and some terrible bikes like the Schwinn Loop cost more than $400, the HIT with a price tag of $599 seems to be a really good deal.
Specifications & Features
| | |
| --- | --- |
| Frame | Dalloy Aluminum, Lattice Forged Hinge, with ViseGrip Technology |
| Folded Dimensions | 25.2 x 15.0 x 32.3 inches (64 x 38 x 82 cm) |
| Weight | 25.4 lbs (11.52 kg) |
| Speeds | 6 |
| Colors | Russet, Shadow |
| Fork | Hi-Ten Steel Blades and Steerer |
| Deltec Cable | 3.2*4.8*L:450mm*L1:369mm |
| Handlepost | Forged Alloy Radius Telescope with Fusion Technology, Adjustable |
| Rims | 20″ Lightweight Aluminum – 20″*1.5″*14G*28H |
| Front Hub | DAHON Custom 74mm Compact Alloy 28H |
| Rear Hub | DAHON Custom 126mm Alloy 28H |
| Spokes | 14g Stainless Steel |
| Tires | DAHON Custom, C1635, 20″ x 1.75″ |
| Crank | Alloy Arms, 52T chainring w/double guard |
| Bottom Bracket | Loose Ball |
| Chain | YBN 1/2″*3/32″*108L |
| Cassette | LY-TM-1006CFQB, 6 SPEED, 14-16-18-20-24-28T |
| Rear Derailleur | DAHON Custom RD-M200(00.3002.081.001)6/7/8S |
| Shifters | DAHON Custom (00.1046.060.001) SRD46-6S |
| Gear inches | 35 – 70 inches |
| Handlebar | 6061 Aluminum Flat Bar, 580mm wide, w/9 degree Ergo Sweep |
| Grips | DAHON Ergo Comfort, left 110mm/right 85mm PVC |
| Brakes | Winzip Smooth and Powerful 110mm, V-brake |
| Brake Levers | DAHON 2.5 Finger Composite Bracket/Aluminum Lever |
| Saddle | DAHON Ergo Comfort |
| Seatpost | DAHON strengthened Aluminum, 33.9 mm x 580 mm, max load 150kg |
| Pedals | DAHON foldable, PC body |
| Kickstand | Available |
| Fender | optional |
| Rear Rack | optional |
| Front Hub | Dynamo front hub with front light (optional) |
| SP-HB | 630mm |
| Saddle to Pedal | Min: 710 mm, Max: 960 mm |
| Rider Height Range | 142-193cm |
| Rider Max. Weight | 136 kg (300 lbs) |
Product Images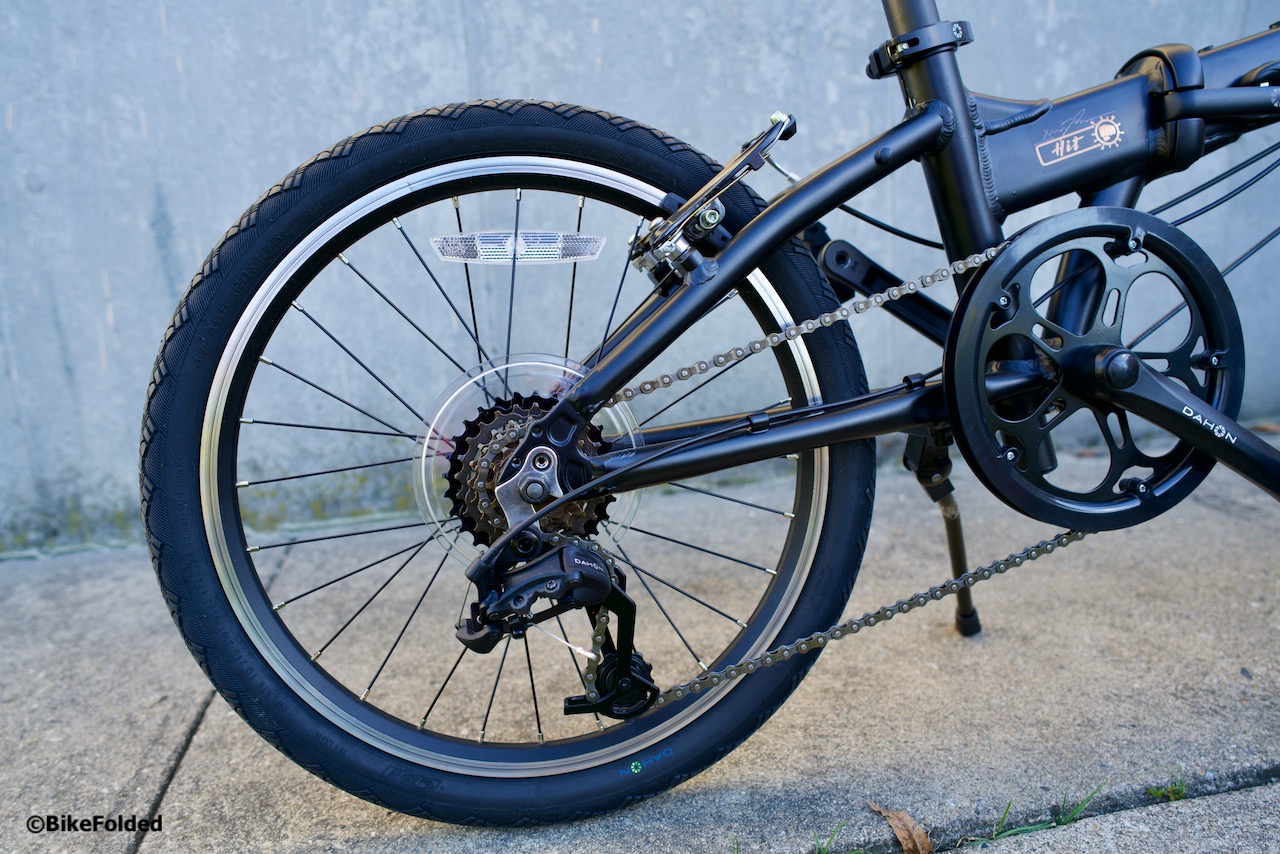 Performance
I was very doubtful when receiving the folding bike for review. I thought that would be a cheap bike which sacrifices a lot of features. However, I soon changed my mind after taking it out of the box and riding it for the first time. After testing some expensive and bulky bikes, the Dahon HIT was such a relief because it is significantly lighter at just over 25 lbs. It is super easy to fold or unfold the bike, as well as carry it to my room or public transportation.
The HIT has the same mid-frame hinge as seen on most other Dahon bikes. It doesn't have the smallest folded size but it is pretty easy to handle and I can easily fit two of them in my car trunk. The handlepost stays securely between the two wheels when folding the bike, and I really appreciate the magnets holding the wheels together. I can easily lift up the bike without worrying that any part will drop out. In case you want to roll the bike for easier transportation, you will need to get a landing gear (attached to bottom bracket) which is sold separately.
A notable design improvement is the Deltec cable to complete the front triangle. The steel cable connects the bottom bracket and the head tube to create a sturdier structure for the bike. The load is now well-distributed and it decreases pressure on the frame hinge, therefore, we don't have to worry much about frame failure. This new design helps increase the weight limit to 300 lbs. This is an amazing achievement as similar folding bikes often have the limit lower than 250 lbs. Moreover, there is no compromise on the weight and folding mechanism.
The Dahon HIT has 6 speeds with gear inches ranging from 35″-70″. This is quite narrow as compared to some 7-speed Dahon I tested earlier, however, it is totally acceptable for a compact urban bike. If you want to climb a lot of hills or a speedy bike, this is obviously not the best choice. Most components of the bike are basic ones made by Dahon, they are not the best ones but I am totally satisfied with their performance.
I mostly use this bike on flat paved roads, sometimes on gravel roads, and put it in my car to discover places. The bike meets my requirements and it is comfortable enough for those short trips. If you plan to ride more on uneven roads, you will definitely want fatter tires. I always have to look out for potholes and storm drains while riding this Dahon HIT.
Conclusion
Pros
Sturdier frame with impressive weight limit
Lightweight and compact
Reasonable price
Cons
Uses basic Dahon components
More suitable for even roads
The Dahon HIT is not the best bike I've tested but somehow I used it more often because it finds the right balance between performance and comfort. In fact, I've used it as my daily driver for 6 months and it doesn't disappoint. If you are looking for a decent folding bike on a low budget, the Dahon HIT is absolutely on top of my recommendation.
Disclosure: I might earn commission from qualifying purchases. We use the commission to maintain the website, buy new products and create content for free, so thank you!