Daily cycling will change your life for the better. It is not only the cheapest means of transportation but also provides benefits in health and quality of life.
We all know that but it seems impossible to many people. You can have many excuses for not biking to work, for instance, you don't have a safe spot to park your bicycle or you don't want to get sweaty and ruin your nice clothes.
All those concerns can be solved now with a folding bike. You can choose mixed-mode commute by combining bicycle use with public transportation, and then put the folder under your desk when you arrive at work. A lightweight folding bike will be extremely helpful in this case because you will be able to carry your bike onto the bus or to subway train effortlessly. Here we are presenting a list of the lightest folding bicycles available on the market to make your commute easier.
1. Brompton Superlight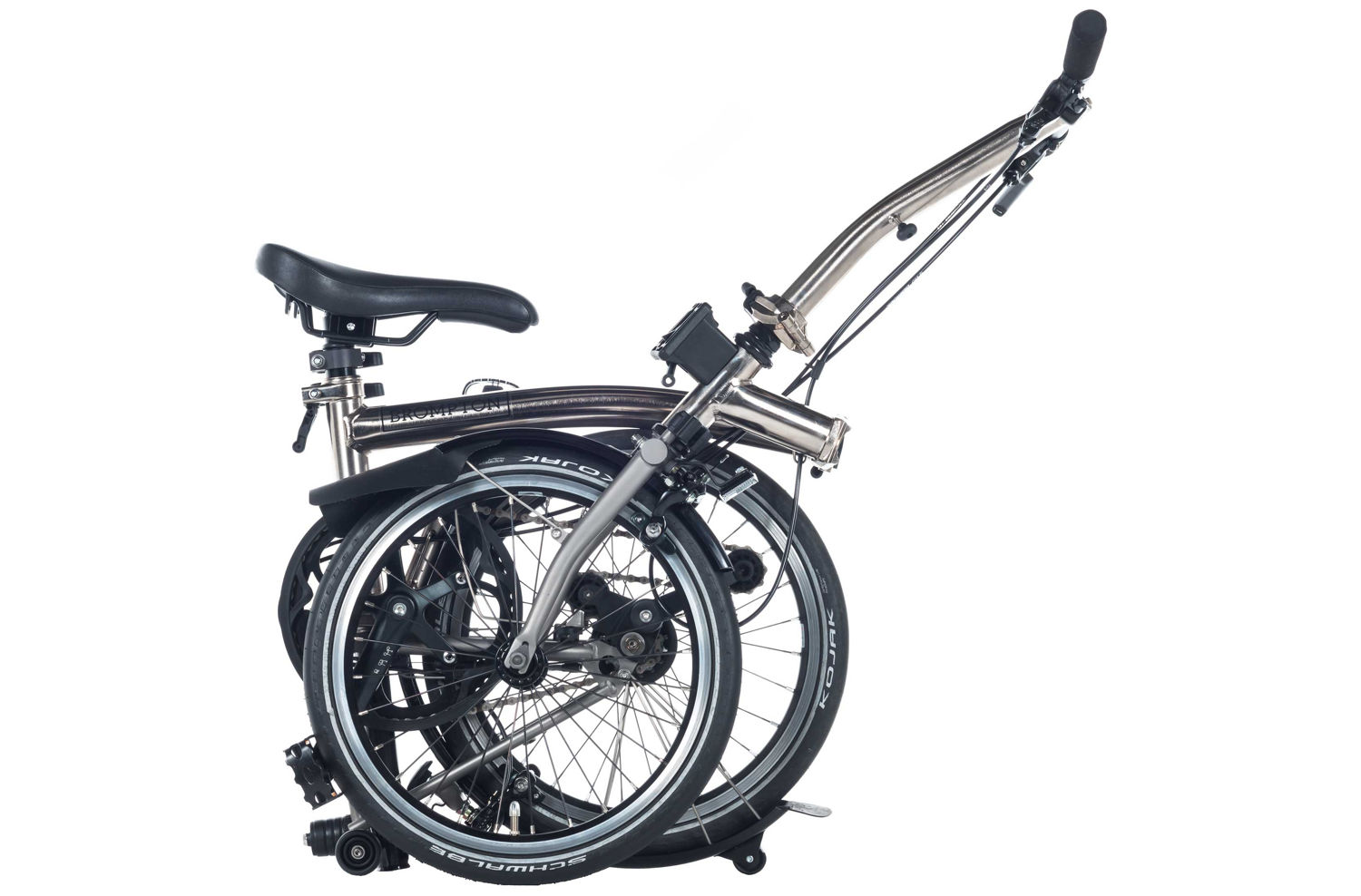 Brompton is among the most popular folding bike brands and they're always known for the unparalleled design and build quality. The Brompton Superlight still has the steel mainframe but the rear frame and front fork are made of titanium. Besides, some other components like wheelset and headset are also replaced with lighter ones. So, it is quite lightweight at just 20.7 lbs for the single-speed version and its folded size is 22.2″ x 21.5″ x 9.8″. This is not the lightest folding bike but obviously the least cumbersome package, so you can easily carry on buses, trains, or check it on an airplane without paying oversize and overweight fees.
You can build your own Brompton Superlight bike on its official website, it will cost you a hefty price from $2,000 to over $3,000.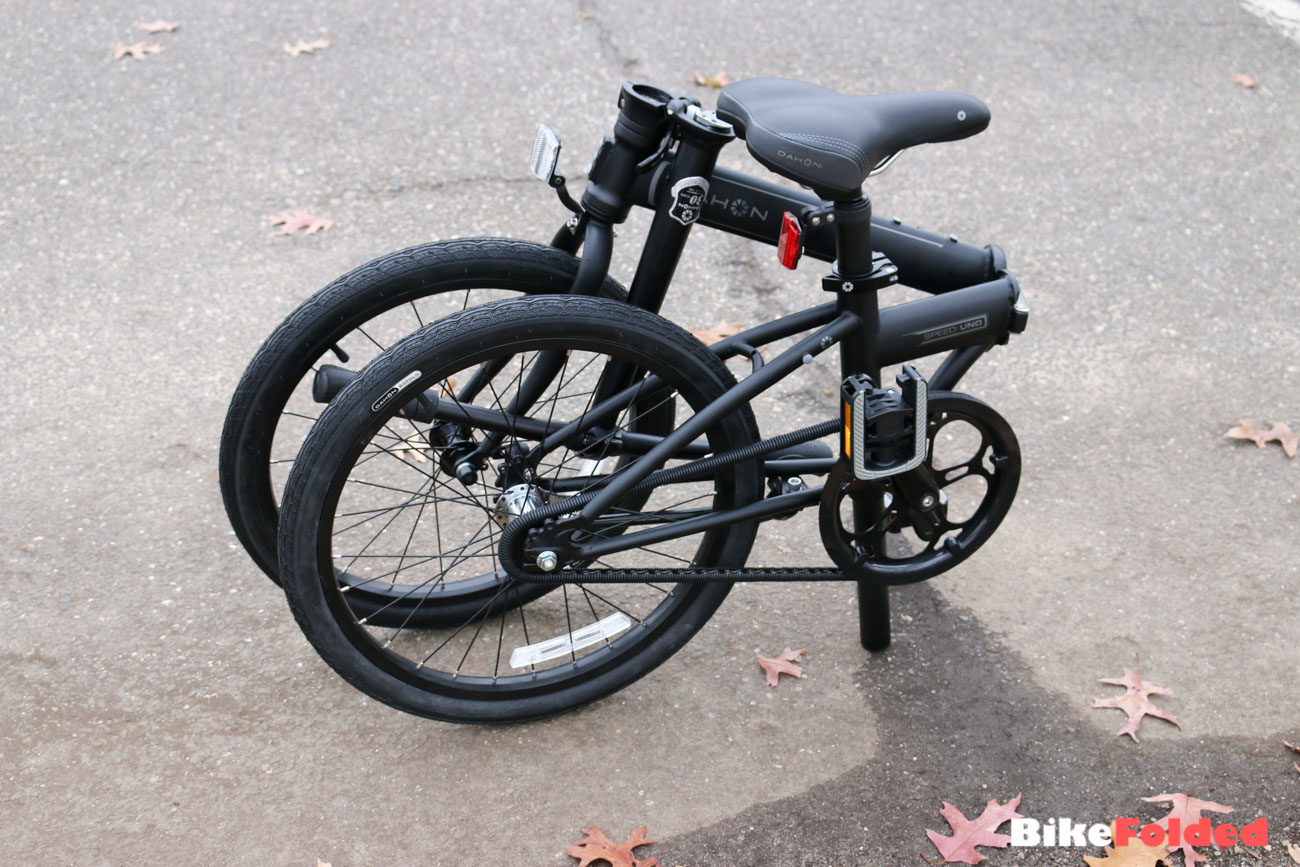 The Speed Uno is the cheapest option in the list but it can be more than enough for most urban riders. The single-speed bicycle has a minimal design and you don't see the mess of cables, brakes and derailleurs, and you can use the coaster brake only. The bike weighs just over 24 lbs and can be folded into a 30.3″ x 25.2″ x 11.8″ package.
3. Tern Verge X10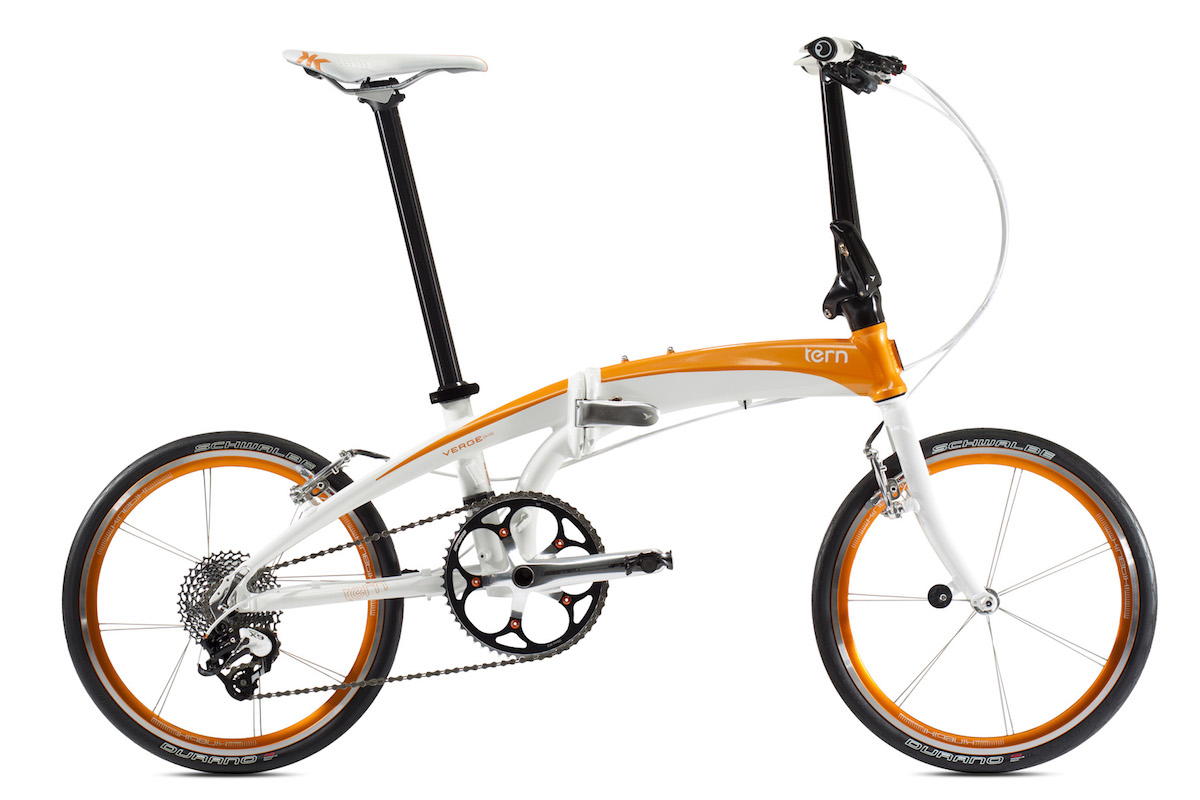 The Verge X10 made into this list because it is the lightest folding bike by Tern. Besides, it looks so gorgeous with a futuristic frame design. The Tern X10 features a lot of high-end components like hydroformed 7005 aluminum frame, custom wheels designed by Rolf Dietrich, Sapim spokes and Kinetix Pro by American Classic hubs. The bike weighs just 21.6 lbs and folded size is 31.1″ x 28.3″ x 15.0″.
The bike is available on Tern website for $1,500.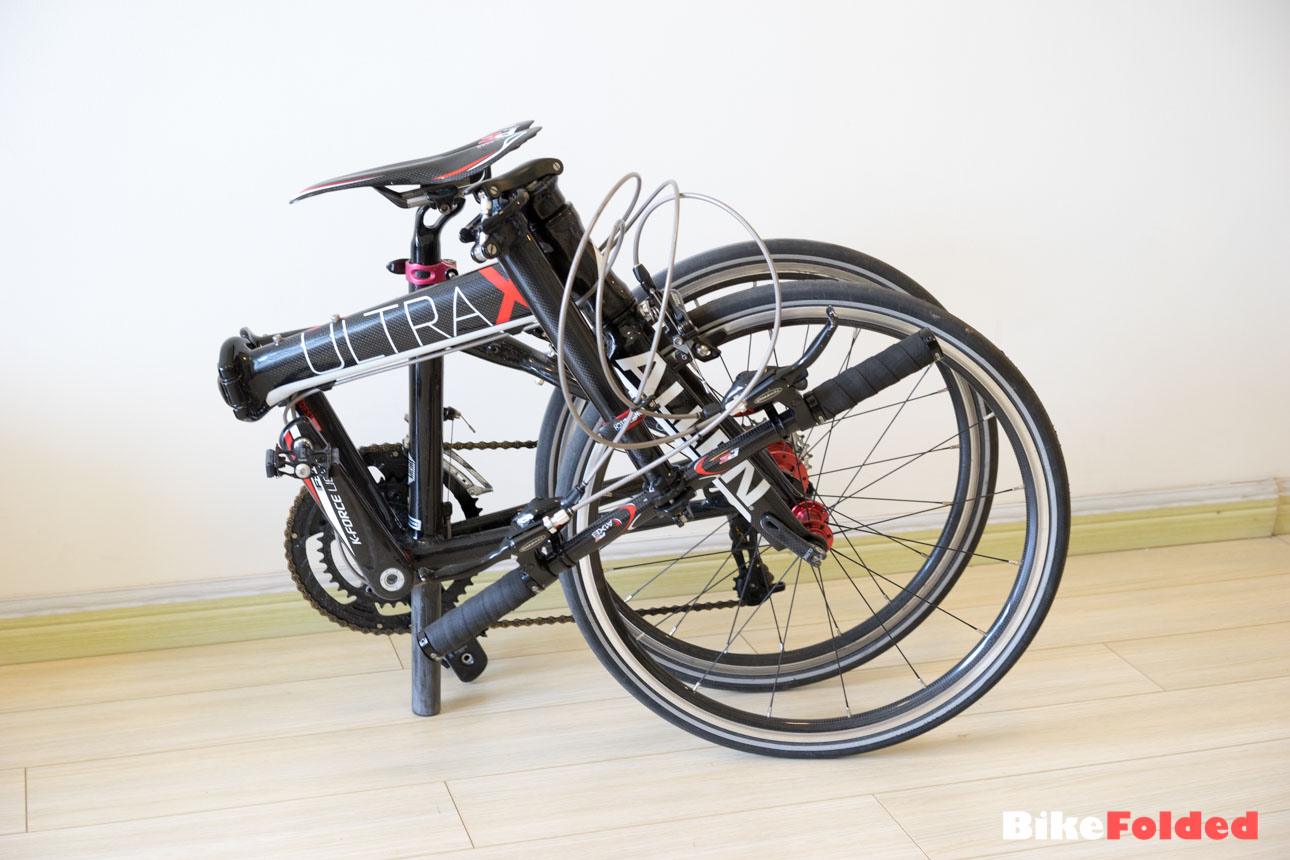 The Ultra X by Allen Sports used to be the top choice in this list but it is dropped to the lower position due to quality control issues. This is the most lightweight folding bike I've ever ridden at this size. Thanks to the carbon fiber frame and forks, the total weight is just 18.75 lbs, that means it is even lighter than many folding bikes with tiny wheels on the market. The folding mechanism is familiar as you still fold the frame in half and then fold down the handlepost, the folded dimensions are 33.5″ x 27.6″ x 13.8″.
This is a high-end folder which can deliver the same performance as full-sized road bikes, so you will have to pay a premium price to own it.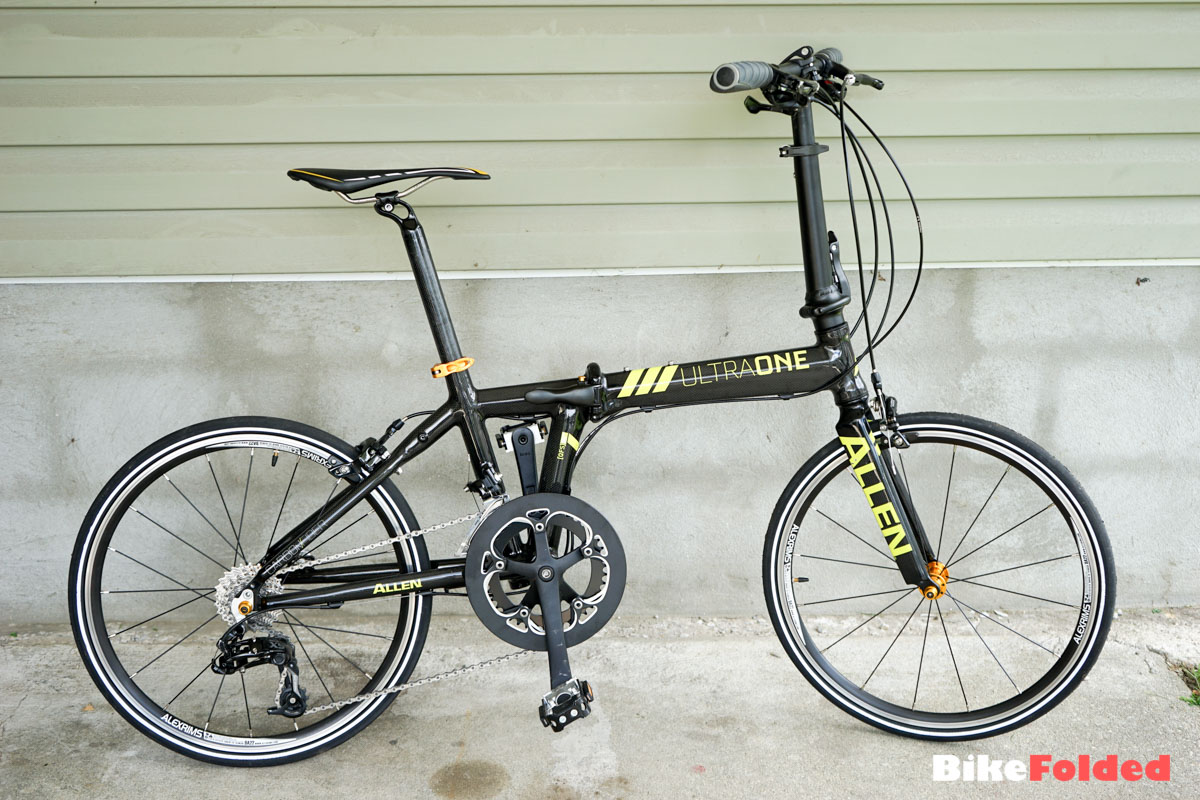 The Ultra 1 comes last in the list but it is not bad at all. It is so similar to the Ultra X, except that some parts like handlepost, handlebar, seatpost, rims and crank set use alloy and aluminum instead of carbon fiber. Therefore, the Ultra 1 is heavier but it is still very lightweight at just over 21 lbs. More importantly, it costs less than the more high-end version. In terms of performance, you will hardly see the difference.
Have you tried these bikes? Or do you know any other lightweight bicycle? Share your experience with us in a comment below.
Disclosure: I might earn commission from qualifying purchases. We use the commission to maintain the website, buy new products and create content for free, so thank you!