Most e-bikes I've tested are really bulky and not suitable for small spaces. It is difficult to carry them to public transportation or take it to places in your car trunk. The DYU S2 is a mini e-bike that could meet those demands.
Specifications & Features
| | |
| --- | --- |
| Frame | Aluminum |
| Folded Dimensions | 960 x 220 x 680 mm |
| Unfolded Dimensions | 960 x 490 x 915 mm |
| Weight | 40.6 lbs (18.4 kg) |
| Wheels | 10-inch |
| Max Speed | 15.5 mph (25 km/h) |
| Battery | 36V 10Ah lithium battery |
| Battery Range | 25 miles (40 km) in throttle mode, 31 miles (50 km) in pedal-assisted mode |
| Charging Time | 6 hours |
| Water-Resistant Rating | IP54 |
| Motor | 240W Brushless DC motor |
| Lights | Headlight, taillight |
| Brakes | Front and rear disc brakes |
| Maximum Load | 265 lbs (120 kg) |
| Operating Temperature | 50-113 °F (10~45 °C) |
Product Images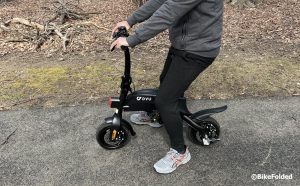 Performance
The DYU S2 came pre-assembled out of the box. Basically, I just needed to install the seat post and pedals before my first ride. It was in good condition; There was just a small crack on the plastic body but this doesn't affect operation. The bike includes fenders, front light, taillight, and a kickstand, so you don't need to buy anything else to start riding it.
This is probably the smallest e-bike I've ever used. My recent e-bike came with 12-inch wheels while this one has just 10-inch wheels. I am just 5'7″ tall but it already looks tiny for me, even when I set it at the maximum seat height. My 7-year-old daughter could sit comfortably on the bike. Therefore, if you are taller and bigger than me, you should consider carefully before making the purchase. I really like its compact size; I can fold the handlepost down and lower the seat post, then it can easily fit into any car trunk.
There are just a few controls on the handlebar; You can find a light switch, a horn, a power button, and a right twistgrip. There is also an LED display showing the current battery level.
The S2 obviously is not designed to use without electric assistance. This is a single-speed with low gearing, so it is very slow when you just use pedals to move forward. You should always turn on the motor and then ride the bike in full throttle or pedal-assistant mode. I use the bike in full throttle mode most of the time and the pedals are just like footrests for me.
Riding the DYU is actually much more comfortable than I expected. The bike uses a double shock-reducing system including a suspension seatpost and thick tires. It can smooth out rough terrain pretty well, so I can ride it on paved road for more than 30 minutes without feeling significant discomfort. Besides, the 240W motor is good enough for me as I mostly ride on flat roads and climb some low inclines. The battery could last more than 20 miles for normal usage.
Conclusion
Pros
Compact design
Comfortable ride
Good battery life
Cons
Not suitable for big riders
Slow speed without motor
Overall, the DYU S2 can't impress me as an e-bike but it is a great alternative to e-scooters. It is still compact while being much more stable and comfortable, so we can ride it for a longer period of time. I'd highly recommend the e-bike if you can get it in the $300-$400 price range.
Disclosure: I might earn commission from qualifying purchases. We use the commission to maintain the website, buy new products and create content for free, so thank you!