E-bikes have taken the transportation world by storm, offering an eco-friendly alternative to conventional vehicles while providing the added health benefits of cycling. Among them, the Heybike Ranger S has managed to show some distinctive features and impressive performance.
Specifications
Folded Dimensions: 40 × 20.5 × 31.5 inches
Unfolded Dimensions: 70 x 24.4 x 50 inches
Weight: 72 lbs (32.6 kg)
Motor: 750W Brushless Gear Motor
Top speed: 28 mph (45 km/h)
Battery: 48V – 14.4Ah (692 Wh)
Battery Range: Up to 55 miles (88 km) in pedal-assisted mode
Charging time: 3-4 hours
Max load: 400 lbs (181 kg)
Suspension: Hydraulic suspension fork
Brakes: Hydraulic disc brakes, 180mm rotors
Display: LCD display with speedometer, battery gauge, PAS level indicator, odometer, tripmeter
Lights: Front/rear LED lighting, front/rear turn signals
Extras: Rear rack, fenders, kickstand
Product Images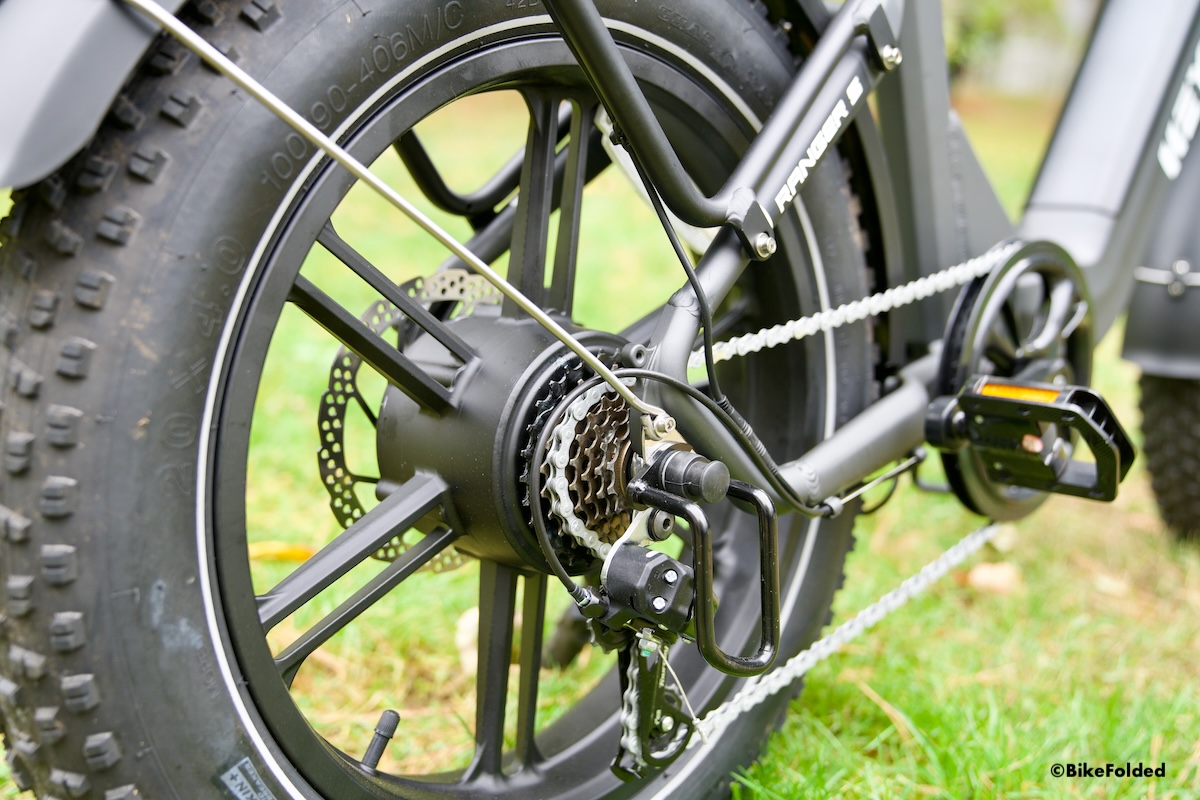 Design Brilliance
The Ranger S comes 60% assembled and it took me less than an hour to put all the remaining parts to the bike. Basically, I just needed to install the front wheel, light, handlepost, seat, and pedals.
The modern-day consumer demands functionality without compromising on aesthetics. The Heybike Ranger S delivers on both fronts. The matte-black finish with step-through design and a battery hidden in the main frame make it a head-turner on the road. The folding mechanism is very useful as it allows users to stow the bike away, be it in their apartments or car trunks. However, the frame is quite bulky, so many people might find the process a bit difficult.
No vehicle's review is complete without addressing safety. The efficient disc brakes offer an immediate response, thereby significantly reducing stopping distances. Furthermore, the LED headlights and taillights, bright and conspicuous, ensure the rider's visibility is maintained, especially during nighttime or in foggy conditions. Noticeably, this is also my first e-bike including front and rear turn signals; This feature is extremely useful as I no longer have to use hand or wear helmets with turn signals.
The Ranger S comes with a digital display showing important information like speed, PAS level, battery status, and trip distance. There is also an app offering some more customizations for the bike but most of us don't need to use it.
Unparalleled Performance
Diving deeper into the technical specifications, the Ranger S shines with its impeccable performance metrics. Its 750-watt motor integrates with the manual pedaling mechanism, allowing users to glide uphill, cut through headwinds, and maintain steady speeds even when fatigue sets in. The transition of the motor is not really smooth because it uses a cadence sensor instead of a torque sensor; The bike receives the electric boost as soon as I start pedaling. This boost might surprise many new e-bikes users but you can avoid this by using the thumb throttle when starting the bike. The availability of multiple modes come useful for all types of riders – from the fitness enthusiasts who prefer manual pedaling to the commuters who lean towards the full-electric mode.
The battery range is another impressive feature. With most e-bikes struggling to maintain prolonged battery life, the Ranger S's long-lasting battery ensures riders aren't constantly on the lookout for the next charging point. Moreover, the battery can be easily removed with the included key, offering you more charging options. You can lock the bike outside and bring the battery to your office to recharge it, getting ready for the next ride. Even without electric, the bike remains agile and easily maneuverable. I have no problem pedaling the bike without any power, so there is nothing to worry when you run out of battery.
Comfort Beyond Expectation
Comfort is a critical factor, especially for those who use the bike daily or for extended periods. The Heybike Ranger S's fat tires play a dual role. They are not merely designed for rough terrains but serve as natural shock absorbers, cushioning riders against the bumps and jolts of city roads. I can't emphasize enough how the tires, coupled with the bike's front suspension fork, ensured a smooth ride even off-road. It is not as comfortable as the EUYbike S4 I tested recently but you are guaranteed smooth rides on most terrains.
The bike's agility largely comes from its 20″ x 4″ chunky tires, though I noticed a tendency for it to navigate corners with a broader sweep. The adjustable saddle and ergonomic handlebars add to the bike's comfort, ensuring that riders reach their destinations without the typical physical strains associated with long rides.
Conclusion
Pros
Comfortable on various terrains
Good battery life
Powerful 750W motor
Convenient folding design
Useful turn signals
Cons
Expensive
Jerky rides due to cadence sensor
Price is always a consideration and the Heybike Ranger S is a premium investment at $1,399. While I love its performance and think it is a great choice for both novices and seasoned e-bike enthusiasts, I can't justify the price tag because there are some decent e-bikes costing less than $1,000 at this time. If you are able to buy this bike at a discount, we highly recommend it.
Disclosure: I might earn commission from qualifying purchases. We use the commission to maintain the website, buy new products and create content for free, so thank you!