The electric bike market is booming, and with the rise in popularity, a multitude of options are available for consumers. One such option that has garnered attention for its impressive specifications and value for money is the HiPEAK BONA Folding Electric Bike. As an avid cyclist and e-bike enthusiast, I was eager to put this foldable fat-tire bike through its paces and share my thoughts on its performance, features, and overall value.
Specifications & Features
| | |
| --- | --- |
| Frame | 20-inch aluminum alloy folding frame |
| Weight | 61.73 lbs |
| Battery | 48V/15Ah Lithium |
| Motor | 750W Brushless Gear Motor |
| Pedal Assist | Intelligent 7-level PAS |
| Brakes | 180mm Mechanical Disc Brakes |
| Gear Shifter | 7 speeds |
| Suspension | Spring suspension front fork |
| Display | Multi-function LCD screen |
| Battery Range | Up to 60 miles |
| Folded Dimensions | 37″ x 28″ x 18″ |
| Max Load | 350 lbs |
| Tires | 20″x4″ fat tires |
| Accessories | Lights, fenders, rear rack |
Product Images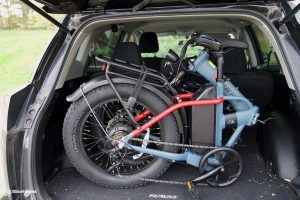 Design and Aesthetics
Convenience is a key consideration for many e-bike users, and the HiPEAK BONA scores well in this category. The bike comes mostly pre-assembled, meaning that you can get up and running quickly with minimal fuss. I just had to attach the front wheel with a quick-release skewer, install the 2 pedals and some other accessories like the fender or headlight, and it's ready to use. However, it is always a good idea to double-check the components and ensure everything is tightened and properly adjusted before embarking on your first ride.
The HiPEAK BONA Folding Electric Bike boasts a modern and sleek design with a removable battery under the seat. To remove the battery, you will need to use the provided key to unlock first before pulling it out. Additionally, the foldable nature of the frame ensures that the BONA remains compact and unobtrusive when not in use, which is particularly useful for those with limited storage space. The folded bike also fits perfectly inside my car trunk, so I can easily take it to my favourite destinations.
The e-bike features a foldable step-over frame but if you're interested in the step-thru design, you can get the HiPEAK Elias. With just two simple steps, the bike can be folded and placed in the trunk of my car. However, it is still a bit heavy at nearly 62 lbs. Besides, I don't really like the folding latch in the mid-frame as it is a bit obsolete and ugly. While this does not significantly impact the bike's overall functionality, it could potentially be an area for improvement in future models. The adjustable stem, seat, and frame cater to riders of different sizes and preferences, ensuring a comfortable and enjoyable ride, even on the roughest of terrains.
The BONA has an integrated rear rack, which offers ample storage space for carrying cargo or attaching accessories such as panniers, platforms, or baskets. This makes the bike a versatile option not only for commuting but also for grocery runs or weekend adventures.
Notably, the bike is equipped with the 4-inch wide puncture-resistant fat tires. These tires not only enhance the bike's performance across various terrains but also contribute to a more aggressive and appealing appearance. The suspension front fork with up to 50mm travel provides added comfort and stability, allowing riders to tackle diverse landscapes with ease, from snow-covered trails and sandy beaches to rugged mountain roads and bustling urban environments.
Battery Range and Motor
At the heart of the HiPEAK BONA e-bike is a powerful combination of a 48V/15Ah battery and a 750W brushless geared motor. These components work together to ensure an impressive 60-mile range on a single charge, making the BONA an ideal choice for long commutes or extended weekend rides. A full charge of the battery takes around 6 hours. The 20mph top speed not only adds excitement to the ride but also allows for quicker travel times, a feature that will be appreciated by those with busy schedules. I really enjoy twisting the grip throttle to speed up and ride the bike without pedaling, it is like riding an electric moped.
Riding Performance and Safety
The BONA e-bike is designed to offer a customizable riding experience, with 7 pedal-assist levels and a Shimano 7-speed gear system that allows riders to adapt their ride based on the terrain and personal preferences. This means whether you're an experienced cyclist looking for a challenge or a novice rider seeking a leisurely outing, the BONA can accommodate your needs. The only drawback is that the bike uses a cadence sensor which could lead to a jumpy and less seamless experience when compared to those featuring torque sensors. It engages the motor assistance as soon as the sensor detects movement, therefore, the riding experience is less natural and smooth. Fortunately, there is no sudden bursts of power and when I need power assistance, I always can use the twist throttle.
Safety is important when it comes to e-bikes, and the BONA does not disappoint as it is equipped with dual disc brakes that provide excellent stopping power, even in wet or slippery conditions. Additionally, the headlight and taillight ensure visibility during nighttime rides or in low-light situations, keeping riders safe and confident.
Conclusion
Pros
Reasonable price
Superb comfort with fat tires and front suspension
Powerful 750W motor
Large removable battery
Cons
Obsolete folding latch
Electric assistance is not really smooth
The HiPEAK BONA E-Bike is an excellent option for those in search of a versatile, high-performance e-bike that offers great value for money. At this time, the bike costs less than $1,000. With its impressive range, powerful motor, foldable frame, and superb comfort on all terrains, the BONA is a fantastic choice for riders of all levels and preferences.
Disclosure: I might earn commission from qualifying purchases. We use the commission to maintain the website, buy new products and create content for free, so thank you!