There are numerous e-bikes on the market but they have no breakthrough features. After testing dozens of them, I got bored because they look and ride similarly. When trying out the Honbike HF01, I was so impressed with its unique design and features. However, is it worth $2,000?
Unboxing Video
Specifications & Features
| | |
| --- | --- |
| Motor | 250W front hub motor |
| Top speed | 25 km/h (15.5 mph) |
| Range | 40 km (25 mi) claimed range |
| Battery | 36V 6Ah (216 Wh) |
| Weight | 20.8 kg (45.9 lb) |
| Unfolded Dimensions | 60.8" x 41.7" x 23.2" |
| Folded Dimensions | 39.0" x 33.1" x 17.9" |
| Brakes | Mechanical disc brakes |
| LCD display | speedometer, battery gauge, PAS level indicator, odometer, tripmeter, light status indicator |
| Drivetrain | shaft-drive system |
| Sensors | triple sensor pedal assist (gyro, torque and cadence) |
| Lights | front and rear LED lights |
| Pedal-assist levels | 5 |
| Accessories | Bell, fenders |
Product Images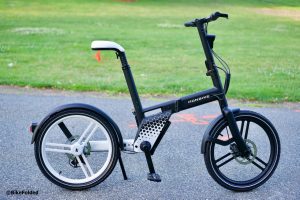 Design & Build Quality
The Honbike is packed very well inside the box and I didn't see any damage after taking it out. The whole assembly process is quite straightforward; I didn't need to read the instructions at all because basically I just had to attach the rear wheel, rear fender, a crank arm, and pedals. The final step was installing the battery and then the bike is ready to use; I even didn't have to tune up the bike.
I admire the minimalist design of recent e-bikes but the Honbike HF01 brings it to the next level with the chain-free design. Instead of using chain, it uses a shaft-drive system to transmit pedaling power to the rear wheel. The shaft-drive system is actually not something innovative in the bicycle market; It has been around since the 19th century. It couldn't become mainstream because of higher manufacturing cost and lower efficiency as compared to the traditional chain system. It doesn't make sense to use the shaft-drive system on a bicycle but I'd love to see it more on electric-bikes because its disadvantage in efficiency can be overcome by using the motor. In fact, the system is widely used in automobile and industrial applications, so there is no reason it can't be successful in the e-bike market.
The biggest advantage of the chainless design is that there are no exposed moving parts, no greasy or broken chains, so we no longer have to worry about bike maintenance or grease stains on our clothes. According to the manufacturer, it could reach up to 25,000 miles (40,000 km) of maintenance-free lifespan.
The folding mechanism of the Honbike is similar to many other folding bikes. You can fold the handlepost down and then fold the bike in half. I'm impressed the most with the folding latch hidden in the main frame as it makes the design even cleaner. There is a folding stand on the outside of the battery compartment and you can open it after completing the folding process. The stand is not really steady and I still need to use the kickstand to keep the bike stable. After being folded, the bike is still fairly bulky and difficult to carry around. This is not a problem if you just need to fold it for more compact storage or carry it to your car.
The HF01 feels like a concept bike and it is truly amazing that it is in mass production. There is even no rear fork and we have just a single-sided front fork; This could put a lot of pressure on the fork and chainstay. I can't verify how durable this bike is; I tested it for nearly a month and none of them failed. Other components like disc brakes and saddle perform really well. The LCD display is quite bright and shows basic information like current speed, pedal-assist level, battery level, light status, etc. The display is integrated into the handlebar, so it might be difficult to replace if it is broken in the future.
Performance
None of the design elements was meaningful if the bike couldn't deliver a good performance. There are 5 levels of pedal assistance; I often set it at speed 1 or 2 when riding on flat roads and go up to speed 4-5 when climbing some steep hills. The bike is powered by a 250W front hub motor; This is not really a powerful motor and there is no full throttle mode. That means we always have to pedal when riding the bike. Having said that, the performance is not bad at all. After setting the pedal-assist level to speed 5, I can climb some steep hills with normal pedaling force. Moreover, the Honbike uses a torque sensor instead of a cadence sensor. This helps deliver smooth riding performance. Now the motor kicks in when I need it, no more sudden speed boost when I start pedaling and I no longer experience jerky and laggy rides.
I compared this to another e-bike with 250W motor and chain-drive system, both of them perform well and I couldn't find out any significant difference. The Honbike only shows its limitation when the motor is off; It has single speed, so it is fairly slow as compared to bikes with a derailleur gearing system. Besides, there is no suspension system on this bike, therefore, you can feel bumps on the road. However, the overall riding experience is fairly comfortable.
The bike is powered by a 216Wh battery. In my test, the battery could last around 20 miles on a single charge. This is not really an impressive number because I still have to pedal the bike all the time. If you ride the bike every day, you probably need to recharge it every 1-2 days. Fortunately, it is quite easy to recharge the battery. You can either plug the power adapter directly to the bike or remove the battery to recharge it in your office. At this time, a replacement battery costs $249.
Conclusion
Pros
Futuristic and minimalist design
Good performance with electric motor
Smooth ride with torque sensor
Requires less maintenance
Cons
Expensive
Average battery life
Bulky folding size
Overall, I really enjoy riding the Honbike HF01 as it has really good performance and stands out of the crowd with a unique design. It is difficult to justify the $1,999 price tag but there are not similar bikes out there. At this time, you can use their coupon codes to get $150 off one bike or $400 2 bikes.
Disclosure: I might earn commission from qualifying purchases. We use the commission to maintain the website, buy new products and create content for free, so thank you!