LANKELEISI is a leading manufacturer of electric bicycles and other outdoor sports equipment. Founded in 2011, the company has rapidly grown into a recognized e-bike brand in the world. Their products are known for their high quality, innovative design, and affordable price. They offer a wide range of e-bikes, including mountain bikes, road bikes, folding bikes, and fat bikes. The company also sells a variety of accessories, such as batteries, chargers, and helmets. The products are sold in more than 30 countries and regions around the world. When it comes to e-bikes designed for the untamed terrains and off-road challenges, the LANKELEISI MG740PLUS leads the pack. But what sets it apart? What makes it a trailblazer in its class?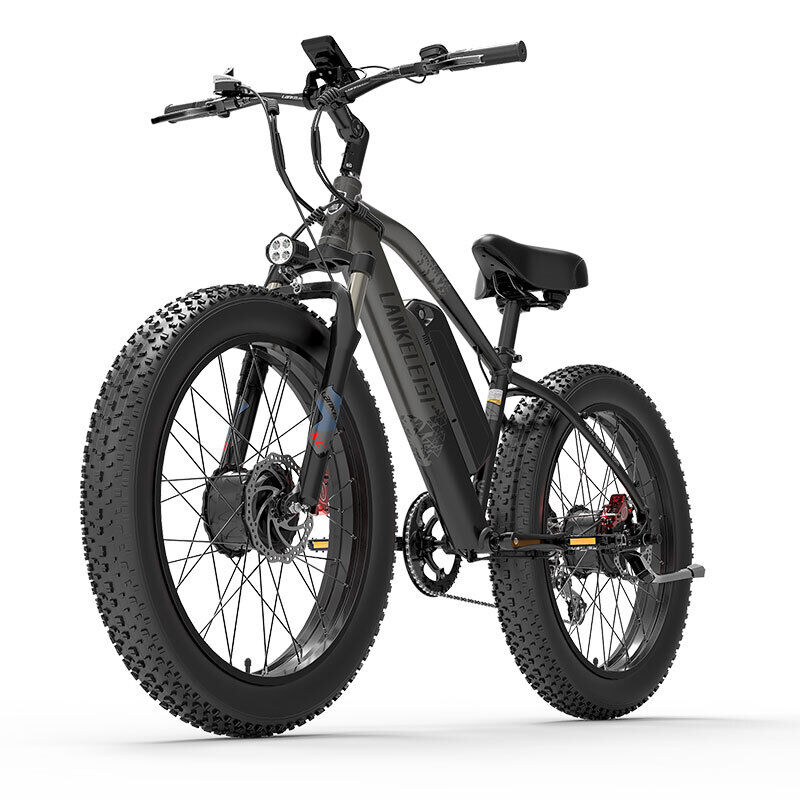 Specifications
| | |
| --- | --- |
| Wheel Size | 26 inch |
| Color | Black-grey/Black-blue |
| Frame | 6061 aluminum alloy frame |
| Handlebar Sets | 6061 aluminum alloy, 31.8x720mm |
| Fork | aluminum shoulder lockable oil spring suspension fork |
| Speed | Shimano 7 speed |
| Shifting Lever | Shimano TX50 |
| Rear Derailleur | Shimano M310 |
| Cranksets | Prowheel aluminum alloy crank square hole 46T |
| Freewheel | SUNSHINE 14-28T |
| Chain | KMC 7s |
| Brake | DYISLANDDe-energized Hydraulic Disc Brakes |
| Rim | Aluminum alloy wheels |
| Tires | CHAOYANG 26×4.0 |
| Net Weight | 34kg |
| Carrying weight | 180kg |
| Applicable height | 170-195cm |
| Mileage | Electric mode 60-70 km/auxiliary mode 120-150 km |
| | PAS mode (5 Speeds) |
| Riding mode | Pure electric mode (5 Speeds) Range 60-70 km |
| Maximum speed | 45-51km/h |
| Front light | LED Powered by battery |
| Gradeability | 40° |
| Battery | 48V 20AH Samsung lithium battery |
| Charger | 48v 3a charger |
| Charging time | 6-7h |
| Motor | 48v 1,000W front drive brushless motor and 1,000W rear drive brushless motor |
| Motor torque | Front wheel motor 95 Nm,Rear wheel motor 95 Nm |
| Meter | Color screen LCD meter, Integrated setting function, display speed, battery level, mileage, etc., waterproof level: IP54 |
| Power assist Sensor | 12-point Holzer-intensive speed sensor |
| Wire connector | All cables are Waterproof Integrated wires |
Power and Speed: Beyond Boundaries
The MG740PLUS boasts an unmatched dual-drive system. With two 1,000W high-speed brushless motors located in the front and rear wheels, the bike guarantees a robust power output. Its lightning speed of 51 km/h, combined with the innovative star gear design, amplifies torque, optimizing energy efficiency. Not only does this system minimize energy wastage, but it also maximizes range, ensuring you cover more ground with less energy.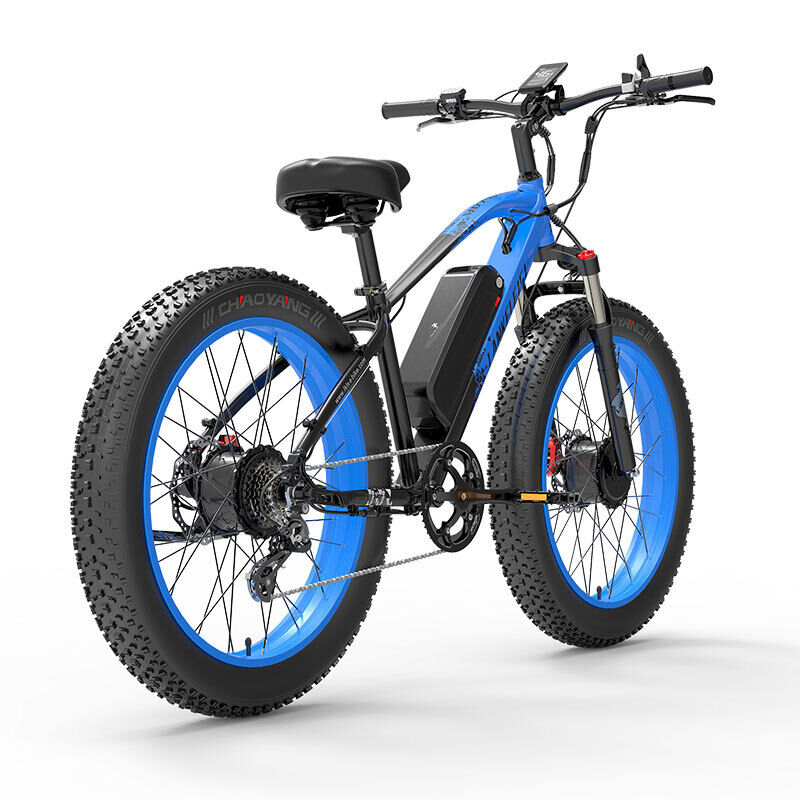 Beyond Traditional Battery Systems
LANKELEISI has not held back on the battery tech either. Equipped with a 48V/20Ah Samsung battery, the MG740PLUS ensures that your adventures aren't cut short. This battery design, being both detachable and waterproof, can provide an impressive range of up to 120-150 km on a single charge. Whether you're cruising in pure electric mode or with assisted riding, you're covered for the long haul.
Built for the Rough and Tumble
True to its off-road spirit, the MG740PLUS is designed to handle the most challenging terrains. The 26-inch fat tires, boasting a 10cm width, make it a beast on rocky roads, sandy patches, and muddy trails. These tires not only offer unmatched traction but are also puncture-resistant, ensuring a smooth ride. To add to this, the oil-spring suspension and lockable fork ensure that bumpy trails are seamlessly navigated, providing riders with optimum comfort.
State-of-the-art Brake Systems and More
Safety remains uncompromised. The bike's dual front and rear disc brake systems, complemented by 180MM disc brake discs, ensure rapid heat dissipation. Even in emergencies, the brakes operate smoothly and efficiently. Moreover, the 7-speed transmission system, imported from the renowned brand Shimano, adds a layer of precision and versatility to your ride. This, coupled with the aluminum alloy crank, ensures that each ride is tailored to the rider's unique preferences and the terrain's demands.
A Symphony of Features
From its robust 48V LED headlight, ensuring visibility in low-light terrains, to its integrated brake rear light, the MG740PLUS embodies thoughtful design. The smart digital LCD display keeps riders informed about their speed, distance covered, and battery status. And for those carrying essentials or adventure gear, the large-payload rear rack proves invaluable.
A Class Apart
The LANKELEISI MG740PLUS isn't just an e-bike; it's an experience. Its blend of power, durability, safety, and innovative features makes it the ideal companion for any off-road aficionado. Whether it's the snowy suburbs, the urban jungle, or the rocky mountainsides, this e-bike promises unmatched performance.
In conclusion, while the electric mountain bike market is flooded with numerous options, the MG740PLUS stands tall, proving its mettle with every feature and specification. If there's a bike that promises to redefine off-road adventures, it's this masterpiece by LANKELEISI. The bike is currently available for $2,099 in the US or €1.899 in Europe.
Disclosure: I might earn commission from qualifying purchases. We use the commission to maintain the website, buy new products and create content for free, so thank you!