Finally, the Mini Cooper folding bike has been widely available in the US. Announced a few years ago, this is also the first bicycle produced under the Mini automotive marque.
Is the Mini folding bike a perfect companion for your car and your lifestyle? We're going to figure it out in the review.
Specifications & Features
Colors: Lime, Matte Black
Weight: 25 lbs
Folded dimensions: 31″ x 28″ x 15″
Frame: AAA Series, aluminium 7005 patented Fusion Technology
Fork: Dahon Slipstream, aluminium U7 double-butt
Stem: Aluminium, height-adjustable
Handlebar: Kinetix Comp double-butt, Aluminium
Grips: Biologic ARX
Rims: Schürmann YAK 406
Tires: Schwalbe KOJAK 35-406 Dahon special edition
Tube/hose: Schwalbe Unitube 20″ AV6 (with car valve)
Spokes: Niro black, diameter = 2mm; brass nipples silver
Brakes: Kinetix V-brakes
Brake levers: Avid FR5 aluminium
Crankset: Kinetix Supra forged aluminium l=170 mm black, aluminium chain guard
Inner bearing: BSA chamber sealed tripartite
Chain: Taya Chain OCTO, Teflon coated, black
Pedals: Suntour foldable pedals
Derailleur: NEOS.2 for 8-speed
Gear stick: Sram Twist 8 gear change
Sprocket cassette: Sram 8 gear, 11-32 cog
Front hub: Kinetix Neutron 74mm
Rear hub: Kinetix Comp. 8 gear cassette
Seat: Selle Royal Gel
Seat post: Super-Oversize 580mm, patented head, Aluminum
Seat bracket: Dahon Turtleneck with quick release
Bell: Stop bell type Billy
Transport bag: included under seat
Images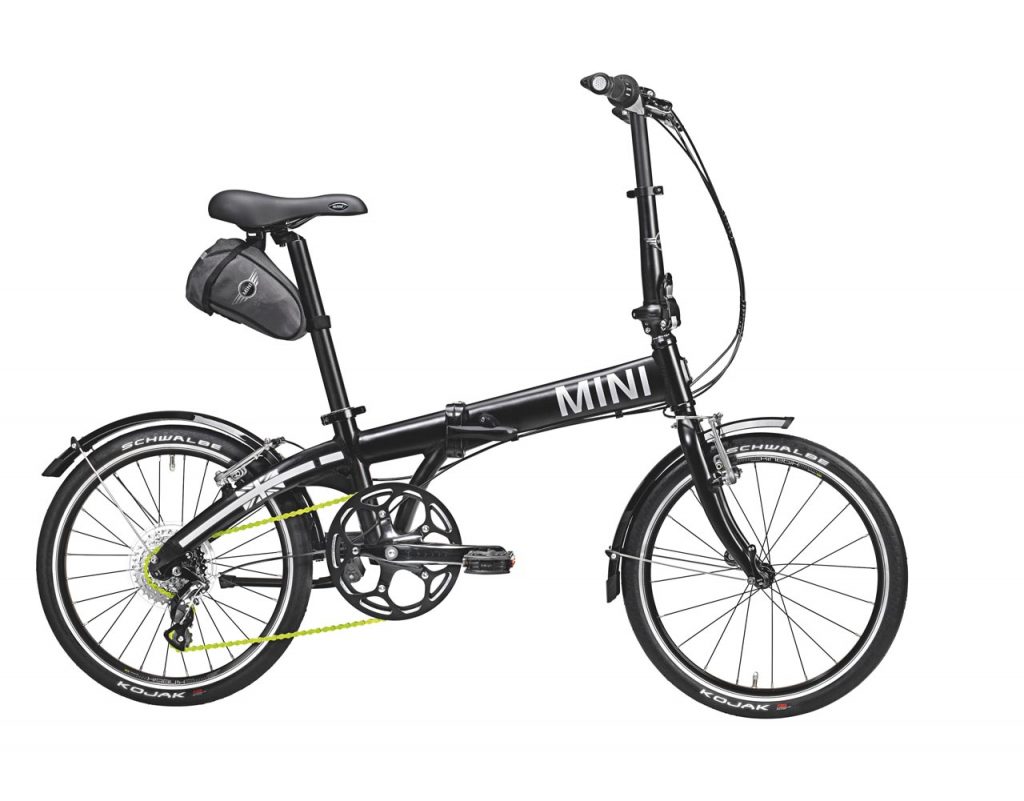 Performance
You might find the Mini folding bike familiar, it is because it shares a lot of components and technologies used on Dahon and Tern bikes. Many people thought it is the same bike as the Dahon Speed P8, Dahon Mariner D7 or Tern Link D8. I guess the bike is manufactured by Dahon because there are a lot of Dahon's components like the fork, tires, derailleur and seat.
Although it is not a new bike, it still has decent specs that could compete with many mid-range folders at the moment. Notably, it features a sturdy frame and hinges, and the folding/unfolding mechanism is similar to most Dahon bicycles. Another important feature is the built-in seatpost pump, this is much more convenient than hand pumps that you attach to the frame. Besides, the bike comes with all essential accessories like front and rear mudguards, and a transport bag installed under the seat. However, the bag is very cheap and not reliable to carry the bike.
The Mini Cooper is quite compact after being folded and it weighs less than 25 lbs, so it is fairly easy to carry anywhere or stow away in a car trunk.
The bike is equipped with 8 gears and 20-inch wheels, so it is quite comfortable and fast as compared to other folding bikes. The 8-speed drivetrain could help me tackle low hills easily, the only problem is that shifting gears is not as smooth as I expected.
Conclusion
Pros
High-quality components
Lightweight
Many useful accessories
Perfect companion for your Mini Cooper car
Cons
Shifting gears is not really smooth
The carrying bag is rubbish
The Mini folding bike is a great choice, especially when you already have a Mini Cooper car. Even when you don't have a car, it is still among the best folding bike for multimodal commuting. Moreover, it is a chance to own something from the most well-known small car maker in the world.
Disclosure: I might earn commission from qualifying purchases. We use the commission to maintain the website, buy new products and create content for free, so thank you!