Before trying the first folding bike, I thought it would have a weird design but I couldn't imagine there would be a bike with a triangular frame. Strida is making the difference with the distinctive design, let's take a look at the Strida SX folding bike.
Specifications & Features
Colors: Matte Black, Matte Grey, Orange
Weight: 26.4 lbs (12 kg)
Folded Size: 45.2″ x 20″ x 9″ (115cm x 51cm x 23cm)
Frame: 7000 series aluminum frame and fork
Speeds: 1
Wheels: alloy, 18 inches
Tires: reflective Kenda
Drivetrain: STRIDA special belt drive, grease free, no oily chain or gears.
Brakes/Cockpit: Disc Brakes and aluminum parts
Rear rack: aluminum, can hold 13 lbs and act as a stand when folded
Adjustable seat mounting
Fenders: plastic
Kickstand: included
Can be laid on the ground or propped up vertically
Can be rolled when folded
Pedals: folding
Belt: included
Bottom bracket: Welded
Maximum Rider Weight: 220 lbs (100 kg)
Suggested Rider Height: 4'9″ – 6'4″ (145cm – 193cm)
Image Gallery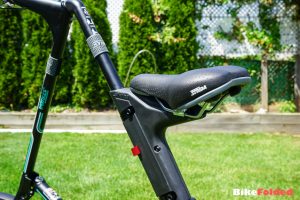 Performance
My first impression with the Strida SX is not so good because it is not ready to ride out of the box. Most parts are assembled but it still took me half an hour to figure out how to install the seat mounting. There are 2 holes on the seatpost and you can install the seat mounting on one of them, depending on your height. If you are taller than 5'9″, you should use the upper hole. I had a problem screwing the pin into the lower hole, it didn't come all the way in and that's the reason why I couldn't adjust the seat height later. You can see my assembling video here.
Although the Strida SX comes with 18-inch wheels, which are smaller than most folding bikes, it is still quite heavy and big. An advantage of the bike is that it can be folded and stored vertically, so its footprint is so small and you can leave it in any corner.
I had no issue when changing from 26-inch to 20-inch bikes but when I tried the 18-inch wheels on Strida SX, it took me a lot of time to get used to the bike and make it stable. As the seatpost is connected to the stem via a ball joint, every small move of your body or hand will make the bike wobble. Therefore, it is not recommended to stand on pedals while riding the Strida. Another problem is that your knees might be very close to the handlebar, especially if you are a tall and big rider.
Having said that, there are still many great features that you will appreciate. Folding and unfolding the bike is very fast and easy. You can complete the process in less than 10 seconds. Besides, you don't see the mess of cables on the bike because this is a singlespeed and it hides brake cables inside the frame. It also requires less maintenance, thanks to the high-quality components and the use of belt drive.
In terms of performance, the small wheeler managed to provide quite an impressive riding experience. I didn't expect much but it is even much better than the Brompton S1E. The bike is faster but it is not so comfortable, you will feel every bump hitting your bottom. My highest speed on this bike was 12 mph.
Conclusion
Pros
Minimal design with no oily chain and less maintenance
High-quality components
Quick to fold and unfold
Cons
Uncomfortable for long rides
The Strida SX is a solid bike that takes much less storage space. I strongly recommend it if you can accept the weird design and use it for short rides in the city.
Disclosure: I might earn commission from qualifying purchases. We use the commission to maintain the website, buy new products and create content for free, so thank you!