United City Bikes is a manufacturer based in Zurich, Switzerland and they've released some folding electric bikes that claim to be the lightest on the market. The Swiss startup launched its bikes on crowdfunding platform Indiegogo in April 2019 and they raised over $1.4 million in just 2 months.
The first 100 bikes were priced at just $699 but the discount rate became lower over time. At the time writing this post, you still can order on Indiegogo and the price starts from $999 now. The One bike comes in 3 different models which are U1, U2, and U3. They have just some slight changes in the disc brakes and battery.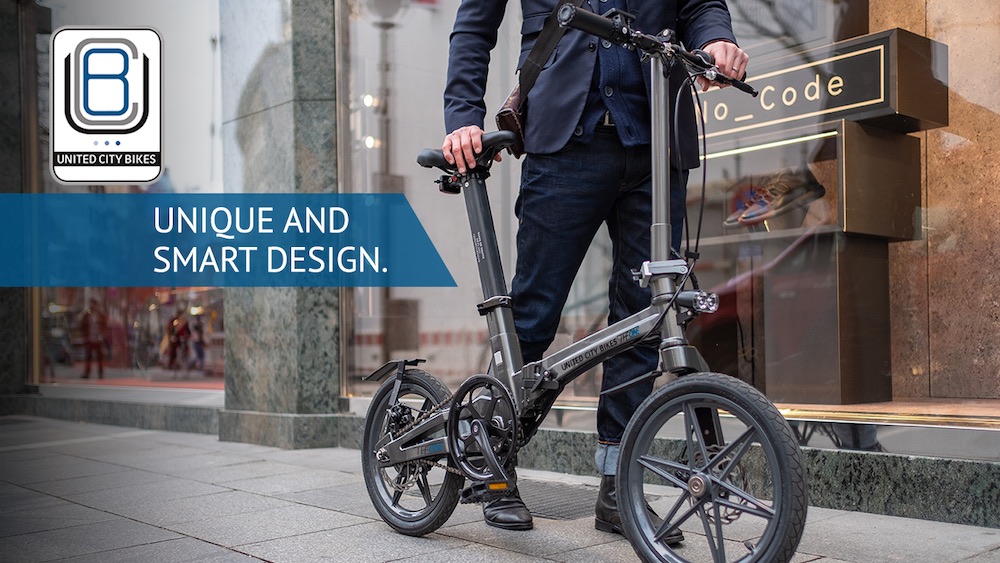 Besides, there are a US version and an Europe version. The Europe version has the max speed of 25 km/h and can run on pedal-assisted mode only while the US version has the max speed of 32km/h and has full throttle mode. Let's check out full specs of the bikes.
Motor
250W
Torque
35Nm
Max speed
25km/h (EU-Version)
32km/h (US-Version)
Start assistance
Yes, up to 6 km/h
Net weight
27.6 lbs (12.5 kg)
Battery
36V – 5.4Ah Lithium-Ion (U1)
36V – 7Ah Lithium-Ion (U2)
36V – 8Ah Lithium-Ion (U3)
Battery Range- Assisted mode
40km (5.4Ah) (U1)
52km (7Ah) (U2)
60km (8Ah) (U3)
Battery Range – Throttle mode
22km (5.4Ah) (U1)
28km (7Ah) (U2)
32km (8Ah) (U3)
Charger
AC100 – 240V 1.8A
Charging time
3.5 hours
Folding size
9.8″ x 25.2″ x 30.1″ (25 x 64 x 76,5 cm)
Unfolding size
49.2″ x 20.5″ x 39.4″ (125 x 52 x 100 cm)
Frame
High Grade Magnesium alloy
Tires
16 inches
Brake
Disc brakes (U1)
Shimano disc brakes (U2)
Shimano hydraulic disc brakes (U3)
Maximum load capacity
220 lbs (100 kg)
Electrical support levels
Easy / normal / speed
LCD Display
Yes
MSRP
$1,599 (U1), $1,799 (U2), $1,999 (U3)
Update: After receiving some complaints regarding deliveries of the bikes, Dirk Kochhan, Founder and CEO of United City Bikes, contacted us to confirm the bikes were still in mass production in China. He also sent me some photos to prove it.
Disclosure: I might earn commission from qualifying purchases. We use the commission to maintain the website, buy new products and create content for free, so thank you!