Ziprs is a very young company in the e-bike industry and they've released just one product on the market, the Ziprs F1. I was impressed with product images on the website and was quite excited to test the bike. Surprisingly, this is among the best e-bikes I've tested in the past year.
Specifications
| | |
| --- | --- |
| Top Speed | 20 mph |
| Battery Range | Up to 45 miles |
| Weight | 47.4 lbs (including battery) |
| Motor | 350W |
| Battery Voltage | 36 V |
| Battery Capacity | 345 Wh (9.6 Ah) |
| Pedal Assistance | 3 Modes |
| Drive Control | Pedal Torque Sensing |
| Lights | LED Headlight |
| Display | LCD Display with IPX5 |
| Frame | Magnesium Alloy |
| Fork | Magnesium Alloy |
| Folded Dimensions | 32 x 26 x 24 in |
| Unfolded Dimensions | 60 x 22 x 40 in |
| Max Rider Weight | 265 lbs |
| Wheel Size | 20×2.1 in |
| Transmission | Rear 6-speed |
| Shifting | Mechanical |
| Brakes | Mechanical Disc Brakes |
| Accessories | Kickstand, mudguard, foldable pedals |
Product Images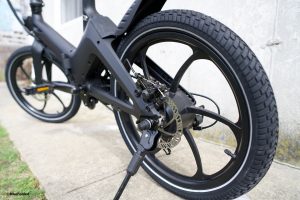 Performance
Most e-bikes on the market look really ugly and bulky with their outdated designs. The Ziprs F1 looks so different with its minimalist design and I couldn't imagine this is an e-bike. The battery is hidden inside the frame underneath the seatpost. When I ride the bike on the street, many people think it is a non-electric one. Another huge advantage is that the battery is so easy to be removed and I don't have to fold the bike to take it out. I just need to use a key to unlock it, then take the battery out for recharging anywhere.
Despite using a small battery, I am totally satisfied with the battery range. It could last up to 45 miles or around 18 miles in full throttle mode, however, I really enjoy riding the F1 without any power assistance. I turn off the engine very often and therefore, I don't have to worry about recharging the battery for more than a week. Normally I would disable the pedal assistance when riding to a destination and then set the assistance at level 1 on the way home. There are 3 levels for pedal assistance but I mostly use the level 1 only because I love pedaling with this bike.
The 350W motor sounds underwhelming but it is more than enough, especially when you ride the bike in pedal-assistant instead of full throttle mode. It is powerful enough to push the bike forward without any pedaling; When you climb some slopes, you will just need to pedal a little more. My favorite feature of the bike is that it uses a torque sensor instead of a cadence sensor. The sensor delivers much more natural rides and you will receive the power when you need it. The transition of the electric motor is much smoother and I feel safer because there is no more sudden speed boost. I'm quite surprised because only some high-end bikes feature this torque sensor.
The e-bike is fairly lightweight at just over 47 lbs. This is quite an impressive number for an e-bike at this size. It doesn't only help me carry the bike around easier but also allow me to ride it faster. Even when the battery is drained out, I don't have to worry much because the riding experience is amazing with or without the pedal assistance. It is just a little slower than non-electric bikes but the difference is insignificant.
The Ziprs F1 features a mid-frame folding mechanism. I really like the big lever on the main frame as I could lock or unlock it easier. Once you fold it down, there is a small wheel on the bottom that could help you roll the bike. However, the clearance of the chainring guard is extremely low, so it would be easily damaged if I rolled the bike on the ground.
The Ziprs includes all essential accessories like a kickstand, mudguards, a front LED light, and an LCD display. You won't have to spend more money to buy those accessories. The LCD display is a simple one, showing just some basic info like current speed, PAS mode, battery level, and odometer.
Conclusion
Pros
Reasonable price
Minimalist & futuristic design
Lightweight
Great riding experience (with or without assistance)
Cons
Difficult to roll the bike
Young brand
At the time of writing this review, the Ziprs costs $1,390 but you can use our referral link below to receive 10% off. I've seen the price drop to less than $1,000 sometimes and if you can grab it at that low price range, the Ziprs is totally worth it. This is among the best e-bikes I've tested in the $1,000 price range; My biggest concern is that if they are still around in a few years and provide replacement batteries when we need it.
Disclosure: I might earn commission from qualifying purchases. We use the commission to maintain the website, buy new products and create content for free, so thank you!