Many people are using a folding bike for multimodal commuting by carrying it onto a bus, train or subway. However, you probably don't know that you can take your bike on an airplane as well.
This is extremely helpful when you travel because you will always have an efficient means of transportation alongside, you don't need to rent a car and don't rely on public transportation for short trips. Riding a bike will also help you exercise and most importantly, that's the most interesting way to discover a strange city.
I've traveled overseas a lot with my folding bicycle and I really love the experience. In this post, I'm going to share some tips to pack your bike properly and avoid extra fees.
Carry-On or Check-in Luggage?
Although some small folders will fit inside a carry-on bag, I don't recommend you to carry your bike on board. Here are the reasons:
The majority of folding bikes are equipped with 20-inch wheels, so they are too big to carry on.
Your bike might not get through the security screening process easily. Many were held at the security gate for further investigation.
Even when you have a small bike with 16-inch wheels like Brompton, there is a chance that you will have to check it in at your boarding gate, especially when you fly on a narrowbody aircraft. I won't be surprised if you receive a broken bike at destination.
I know that some people were successful bring their bikes on board and put them in the overhead compartment on a widebody aircraft. However, it is too risky and I don't recommend you to do so. If you still insist, make sure to check with your airline beforehand because some have strict policies regarding on-board luggage.
How to Pack your Folding Bike and Avoid Fees?
Now you know that checking in your bike is a better and safer solution. So, how to pack it properly to avoid damages and extra costs?
Many people bought a folding bike bag or specialized hard case but they are totally a waste of money. While polyester bags are too thin to protect your bike, the expensive hard cases like Brompton B&W Case or Dahon Airporter Suitcase can keep small bikes only and they don't have TSA locks. Besides, I prefer bringing my bike with 20-inch wheels, so the cases couldn't help.
If you have a Brompton bike, you can easily remove the seat post and put everything inside a large suitcase like the Samsonite Stryde 2 Hardside Glider Long Journey or Delsey Luggage Helium Aero Expandable Spinner Trolley. Make sure to add some padding and cover your bicycle. You still have rooms left for some clothes, tools, or spare tubes.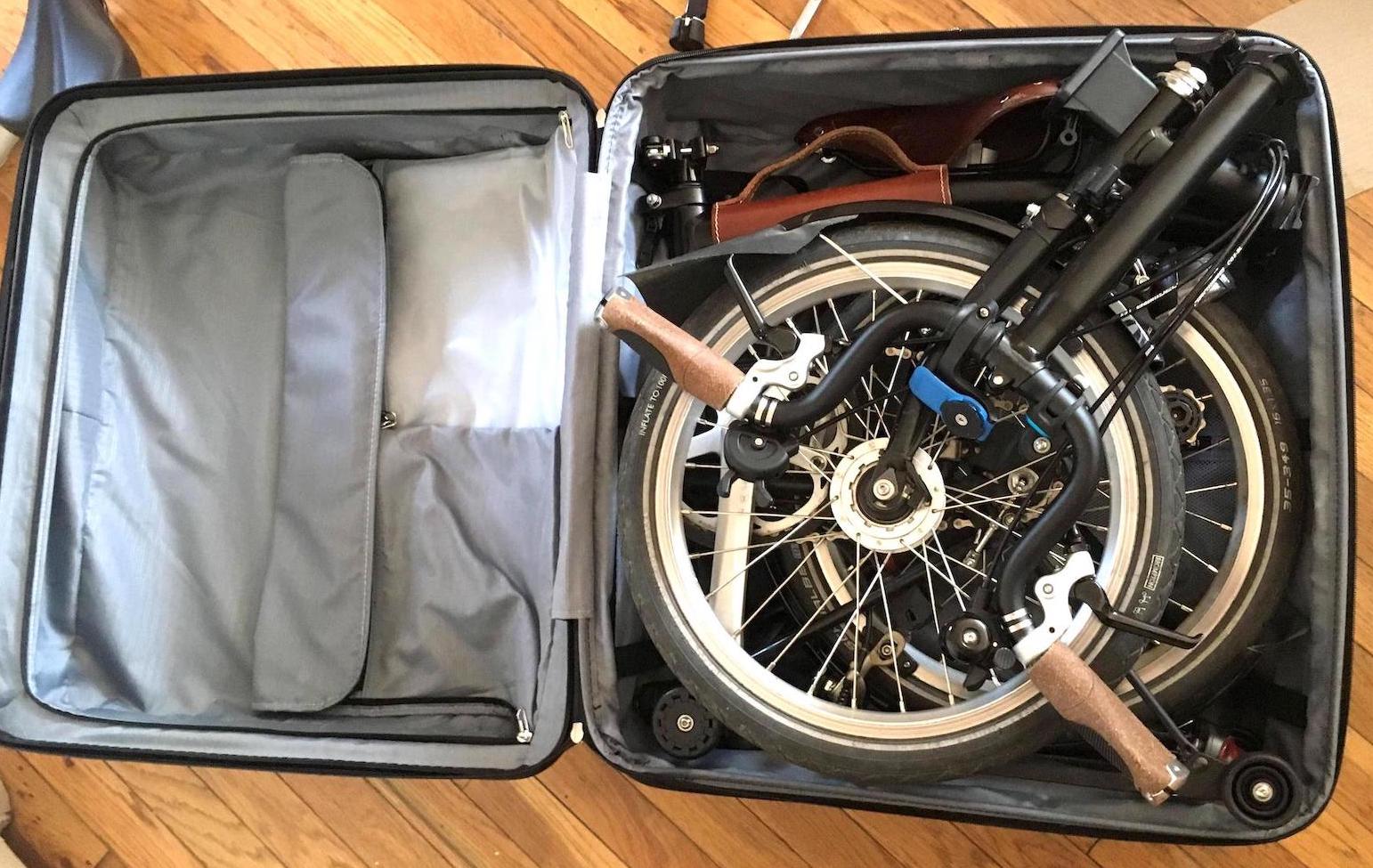 In case you have a bigger bike, I'd recommend you to put it in the original packaging. This is how I pack my folding bike and I've never had to pay a penny for oversize or overweight luggage although the box exceeds free baggage allowance. The dimensions of a Dahon's box are 33″ x 12″ x 25.6″, so the total outer dimensions measure over 70 inches while the allowance for standard baggage is just 62 inches.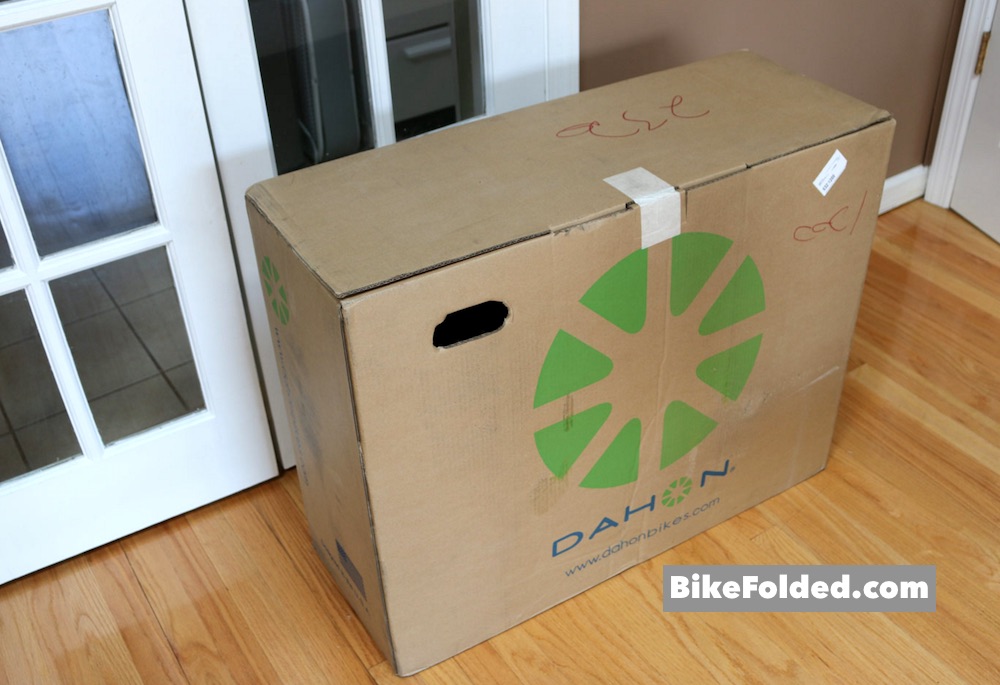 I flew with some airlines like Eva Air, Qatar Airways, Nippon Airways, Korean Air, Thai Airways or Singapore Airlines, and they've never charged me anything. Sometimes, the staff at check-in counters will ask you if that's a bike inside the box, you'll just need to confirm and you're good to go. Probably the size difference is too small for the oversize surcharge. After checking in, you can forget about your bike, hit the boarding gate and probably enjoy your time during transit as you don't have to carry a 20 lbs bike with you all the time.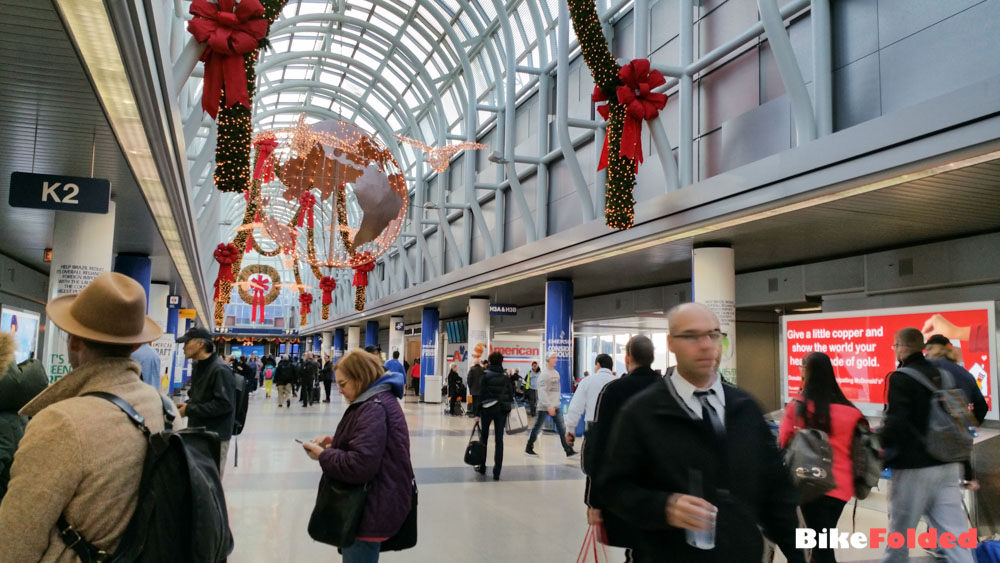 That is my advice for traveling with a folding bike. Share with us your experience in a comment below.
Disclosure: I might earn commission from qualifying purchases. We use the commission to maintain the website, buy new products and create content for free, so thank you!