Brompton might not be the world's biggest folding bike manufacturer but many people consider it the best one when it comes to build quality. Actually, this is not my first Brompton folding bike. A few years ago, I tried the Brompton S1E but it failed to impress me; that was an expensive bike with a subpar riding experience.
I was quite disappointed but I decided to give it another try since many people suggested that the 3-speed and 6-speed one have better performance. So, I got a new folder, the Brompton M6L Black Edition. Let's check it out.
Specifications & Features
Weight: 25.8 lbs (11.7kg)
Folded dimensions: 23″ x 21.5″ x 10.6″
Speeds: 6
Frame: Brompton High Tensile Steel
Fork: Steel
Stem: Steel
Shifters: Brompton 2017 trigger shifters
Chainset: Brompton 50T
Rear Sprockets: Brompton 13T & 16T
Chain: Brompton 3/32″ Chain
Brakeset: Brompton dual-pivot calipers with Fibrax cartridge pads
Brake Levers: Aluminium
Handlebars: Brompton 2017 M Type riser bar – Black
Grips: Brompton M Type
Rims: Double Wall – Alloy – 28 Spoke
Front Hub: Brompton Standard
Rear Hub: Brompton 3-speed BWR (Brompton Wide Range) Hub with Derailleur system
Tires: Brompton Kevlar Tyre (37-349)
Saddle: Brompton Saddle with molded grip and rear light bracket
Seatpost: Brompton Standard Seatpost
Lighting: Reflectors only
Pedals: Brompton folding pedal on Left, alloy cage flat pedal on Right
Unboxing Video
Product Images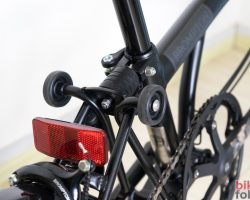 Performance
As compared to my previous Brompton bike, the new version has some changes. It features the classic M-type handlebar instead of the S-type one. You can see the differences between all handlebar types in this post. The M-type handlebar might not be as sporty but it is the most popular one because it is suitable for a more leisurely upright ride.
Besides, the Brompton has mudguards, so your clothes won't get dirty when you ride on wet roads. The most notable difference is that this bike is equipped with 6 gears. So, we have a 2-speed left-hand shifter and 3-speed right-hand shifter. On the left shifter, you can select + or – for a higher or lower gear. On the right one, you have 1, 2, or 3 for a low, medium and high gear. That means we have the following 6 speeds: 1-, 1+, 2-, 2+, 3-, and 3+. The 3-speed hub gear might make a big jump and the shifter gets damaged if you don't change gear sequentially in the right order. Another important rule is you keep pedaling when changing the derailleur gear and stop pedaling when changing the hub gear.
Brompton owners are often very proud that their bikes have the smallest folded size and so, more portable than any other folder. However, Brompton has some tough competitions now after Dahon officially released the new Dahon Curl. Another concern is that the Brompton is not really lightweight. My Brompton weighs 25.8 lbs while the expensive 6-speed Superlight Brompton could save just less than 2 lbs. On the other hand, my Dahon EEZZ D3 with aluminum frame weighs just over 21 lbs. This is not a big problem if you don't have to carry the bike upstairs. I use the elevator, so I almost never have to lift the Brompton up. You can easily roll the Brompton anywhere after folding it. My Brompton made some noises when I rolled it in the folded position, fortunately, the issue was fixed.
I used to think that Brompton bikes are expensive because of the high cost of a UK-based factory, however, that's just one of the reasons. The build quality of the Brompton is top notch and I can feel that they care about every single detail of the bike.
The frame design remained unchanged over the years but there are actually some improvements in every new version. For instance, the new Black Edition features a revised M-type handlebar for better hand position, new gear shifters with a visual indicator, an integrated bell, and lock-on grips. What I love the most is still the folding mechanism, that's a smooth and easy process that no other bike can compete with.
The wide range of gears provides a much better experience on this bike. If you plan to purchase a Brompton, I recommend you get at least a 3-speed one. The bike doesn't require much effort to get started and the speed is on a par with lighter Dahon bikes. According to my bike computer, the average speed is 10mph and the maximum speed reaches 20mph. Climbing some moderately inclined hills is quite exhausting and obviously, the Brompton can't compete with bikes with bigger wheels.
An advantage of the Brompton is that it comes with a lot of accessories and components can be found easily. Apart from the Brompton mini pump and a smartphone holder that come with my bike, you can visit a Brompton dealer and find a lot of nice bags, or upgrade your bike with some premium parts.
Conclusion
Pros
Compact folded size
Smooth folding/unfolding process
Some improvements over the previous versions
Stable and fast rides
Cons
A little complicated to change gears
Expensive
The Brompton M6L Black Edition is more expensive than a majority of folding bikes on the market. It is not a perfect bike but it has its own characteristics and people love the amazing build quality. Another reason to buy a Brompton is that its resale value is much higher even when you've used it for years.
Disclosure: I might earn commission from qualifying purchases. We use the commission to maintain the website, buy new products and create content for free, so thank you!