Do you remember the electric bikes that GM unveiled in late 2018? It even didn't have a name and they announced a $10,000 contest to crowdsource the name. Now, the two electric bikes get official and they are called ARĪV Meld and ARĪV Merge.
It is really interesting to see major auto companies investing in bicycles. Obviously, they've realized the potentials as folding e-bikes can be stowed in car trunks or tucked away on trains. Between the two bikes, only the ARĪV Merge is foldable. The folding bike can be rolled on its two wheels while folded, so you almost don't have to lift it up. Another interesting feature is the Walk Mode that once enabled, the motor will kick up a little to help you walk up slopes easier.
GM builds a proprietary motor from the ground up for the best power and torque performance. It has 4 levels of pedal-assisted power and the maximum speed could reach 25 kph (15.5 mph). Besides, GM made the battery with the same standards as found on their electric vehicles. The battery range is up to 64 kilometers (39.8 miles) and a full charge takes around 3.5 hours. Other safety components are also included, such as front and rear LED safety lights and oversized hydraulic disc brakes.
The ARĪV Merge is a connected bike as it can connect to our smartphone via Bluetooth. Once you install the ARĪV eBike app on your smartphone, you will be able to monitor riding metrics like speed, distance, motor assist level, distance traveled, remaining battery level, etc. It has a Quad Lock mount so that you can attach your smartphone on the handlebar and you can also recharge your phone using an integrated USB port.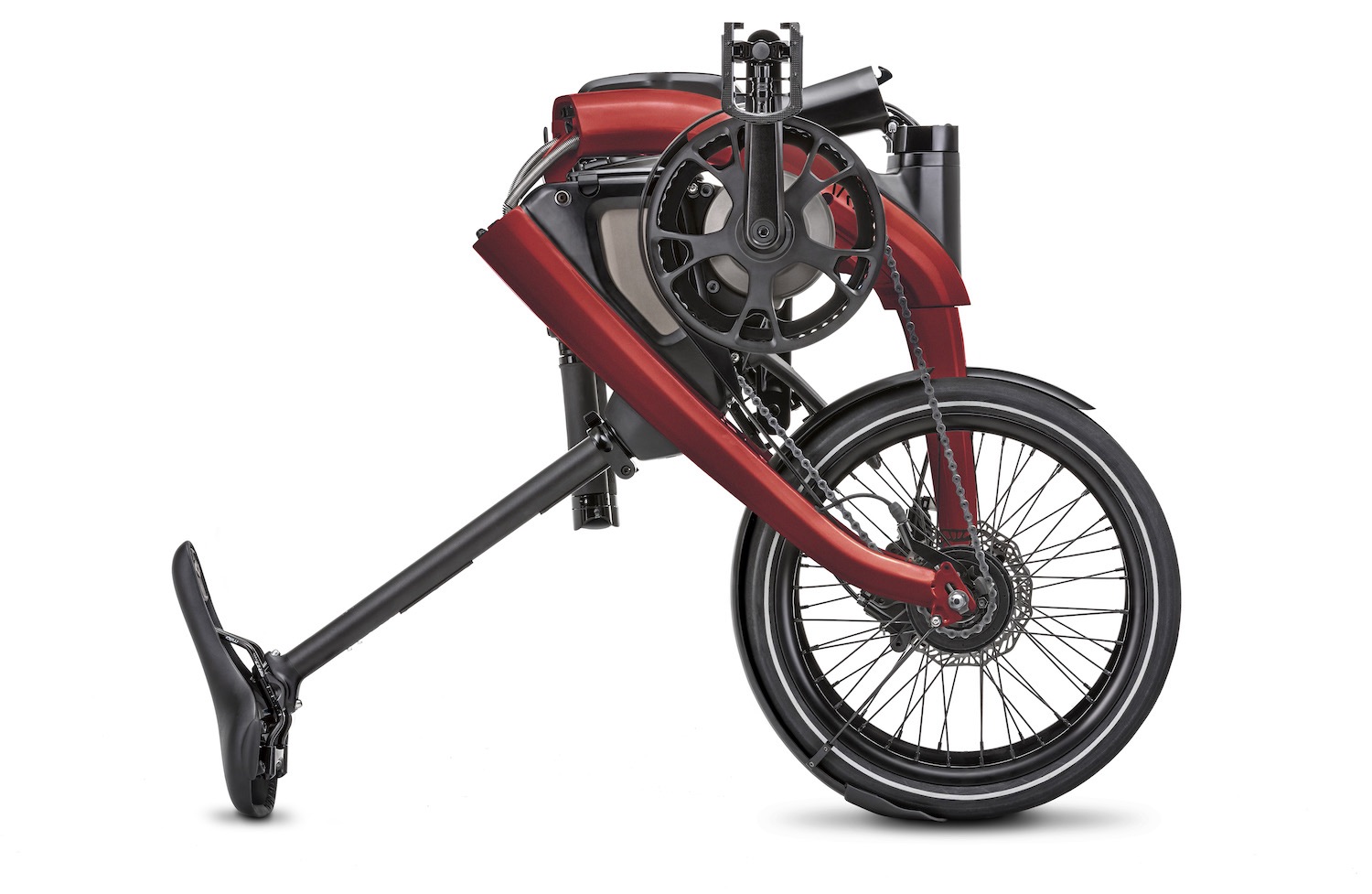 The e-bikes are designed and made in GM facilities in Michigan and Oshawa, Ontario. You can preorder it starting in February 2019 in some countries like Germany, Belgium, and the Netherlands. The ARĪV Merge costs €3,400 in Belgium and the Netherlands while it is a little cheaper at €3,350 ($3,760) in Germany.
I really love the modern and compact design with internal cable routing and high-performing motor. It is in the same price range as other high-end folding e-bikes like Brompton Electric or Tern Vektron, so we have more choices now. But do you think e-bikes should be more affordable? Let us know in a comment below.
Disclosure: I might earn commission from qualifying purchases. We use the commission to maintain the website, buy new products and create content for free, so thank you!