Urban mobility is a critical concern for many city dwellers, and there has been a significant surge in the use of bicycles as a sustainable, efficient, and health-conscious solution. Amidst this trend, folding bikes have emerged as a convenient option, promising compactness and portability while maintaining the traditional cycling experience. Tern, an industry leader in the folding bicycle market, has raised the bar yet again with its smallest folding bike to date – the BYB P10.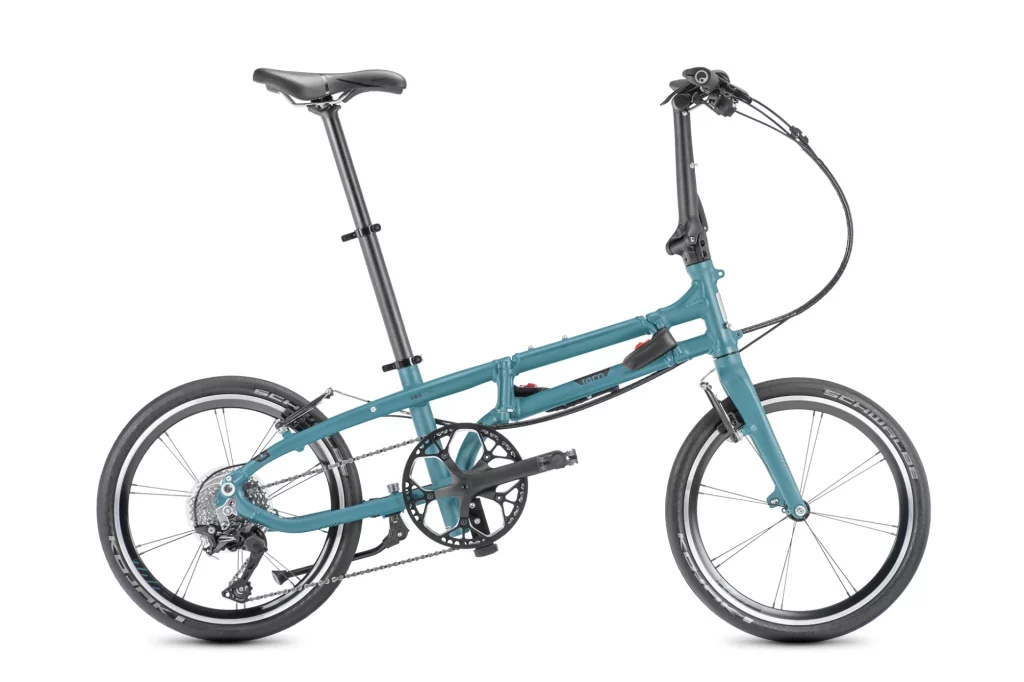 Specification
FRAME: Tern BYB, 6061-AL, Aluminum, TriFold patented technology, EFBE tested: ISO 4210
FORK: Tern Tarsus, 6061-AL, hydroformed
SPEEDS: 1 x 10
WEIGHT: 12 kg (26.5 lbs)
GEAR INCHES: 28″ – 90″ (2.20 – 7.19 m)
FOLDING SIZE: 33 × 81 × 51 cm (13 × 31.9 × 20.1 in)
SEATPOST TO HANDLEBAR: 63 – 67.5 cm (24.8 – 26.6 in)
SUGGESTED RIDER HEIGHT: 147 – 195 cm (57.9 – 76.8 in)
MAX GROSS VEHICLE WEIGHT: 120 kg (264.6 lb)
MAX LOAD: 105 kg (231.5 lbs)
MAX RIDER WEIGHT: 105 kg (231.5 lbs)
HANDLEPOST: Tern Physis RF, 3D forged
STEM: Tern Andros (G2), adjustable, forged construction
HEADSET: Tern Flux by FSA, cartridge bearings, Physis integrated
HANDLEBAR: Flat bar, 6061-AL, Andros adapted
GRIPS/BAR TAPE: Ergon GP10
SADDLE: Tern Porter+ by Velo, patented GripPad design, PrimeGel padding
SEATPOST: Tern Telescope, 34.9/30.9 mm, 2014-AL
SEATPOST CLAMP: Tern Collar
FRONT BRAKE: Kinetix SpeedStop V-brakes, stainless hardware
REAR BRAKE: Kinetix SpeedStop V-brakes, stainless hardware
BRAKE LEVERS: Shimano
BRAKE CABLE & HOUSING: Jagwire, anti-compression housing, Slick Lube liner
FRONT WHEEL: Kinetix Pro, Paired Spoke technology, 16H
REAR WHEEL: Kinetix Pro, Paired Spoke technology, 20H
TIRES: Schwalbe Kojak, Performance Line, 35-406, puncture protection
SHIFTER: Shimano Deore, 1 x 10 spd
REAR DERAILLEUR: Shimano Deore Shadow+
CRANKSET: FSA Vero, Built for Tern, 53T
CASSETTE/FREEWHEEL: 11-36T, 10 spd
BOTTOM BRACKET: FSA, Cartridge, sealed bearings
CHAIN: KMC X10
PEDALS: MKS EZY
SHIFTER CABLE & HOUSING: Jagwire LEX-SL, slick treatment, alloy ferrules
The Smallest Folding Bike Yet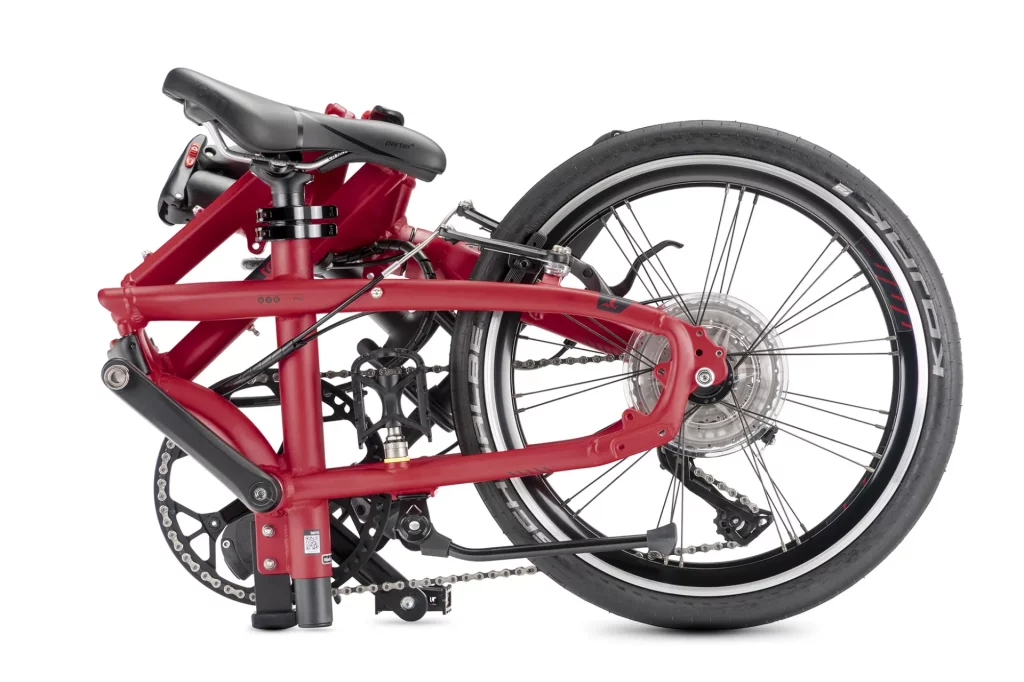 True to its reputation for designing innovative and efficient bicycles, Tern has outdone itself with the BYB P10. Standing for 'Bring Your Bike,' the BYB P10 sets a new standard for compact folding bikes with its unique design. At a glance, it's evident that the BYB P10 isn't your average folding bike. Its trifold frame design with two hinges allows it to fold down to an incredibly compact size, 30% smaller than traditional Tern bikes. This design makes the BYB P10 the smallest Tern bike yet, transforming it into a package that's only 13″ tall, 20.1 wide, and 31.9″ long when folded.
The Tern BYB P10 isn't just a compact folding bike; it's a solution designed for the urban lifestyle. The bike's ultra-compact form makes it incredibly convenient for city dwellers. It can be comfortably carried onto public transit, easily fits in elevators, and can be stowed away neatly in offices, restaurants, or tiny city apartments.
Tern has also introduced the Metro Transit Rack with the BYB P10, a new feature that allows the folded bike to be rolled rather than carried. With its innovative design, the BYB P10 can be effortlessly rolled around, like a travel suitcase, making it even more convenient for urban commuting.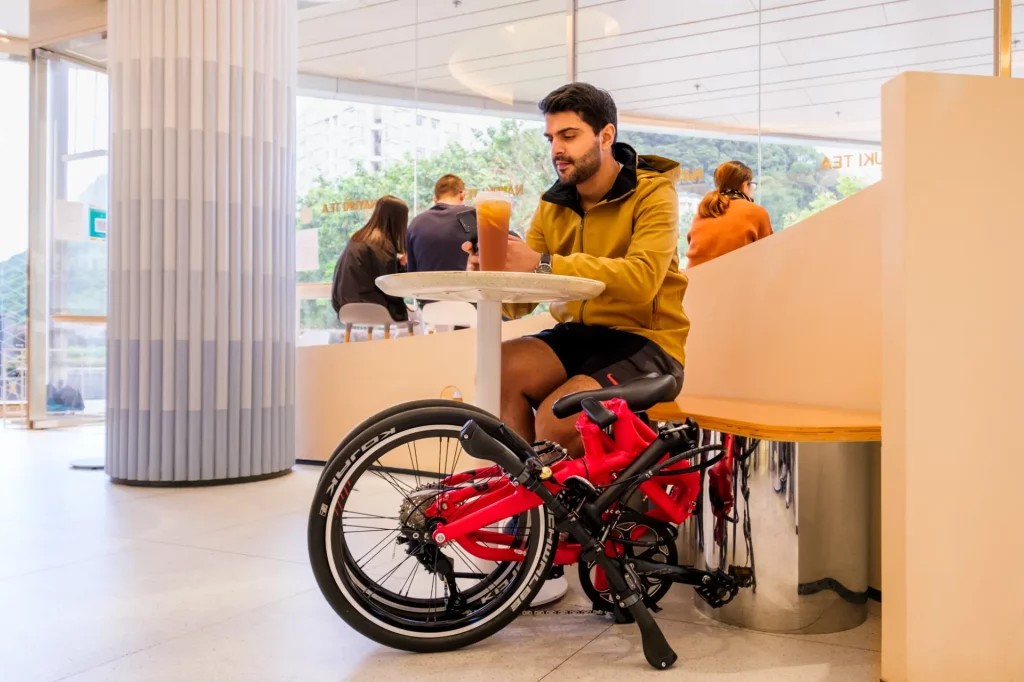 Uncompromised Performance
Despite its compact size, the Tern BYB P10 promises an uncompromised and grown-up ride. This innovative bike employs a variety of features to ensure a smooth and enjoyable riding experience. It is fitted with 10-speed Shimano Deore gears, providing ample range for any city ride, hill climbs or quick commutes. It also features Kinetix Pro X 20-inch wheels with Schwalbe Marathon Racer tires, guaranteeing stable handling and superior traction for a comfortable ride.
The BYB P10's unique 'DoubleDeck' frame design provides an impressive level of stiffness, equivalent to Tern's non-folding bikes, promising a steady and reliable performance. The bike is also equipped with a sturdy Physis 3D handlepost, which is four times stiffer than previous models, ensuring you remain in control at all times.
The Tern BYB P10 is an innovative step forward in the world of folding bikes. Its unique two-hinge design, combined with high-performance features, offers a portable yet reliable solution for urban mobility. By successfully balancing compactness with a comfortable and uncompromised ride, Tern has once again set the standard for the future of urban cycling. The bike will be available this fall with prices starting from £1,500 / $1,699.
Disclosure: I might earn commission from qualifying purchases. We use the commission to maintain the website, buy new products and create content for free, so thank you!