A Brompton has been my favorite folding bike since I started reviewing folding bike in 2014. I've used a few Brompton bikes and all of them were standard or black editions. I always wanted a Brompton Superlight but couldn't afford its expensive price tag. Recently, the Superlight is rebranded as P Line and it even comes with a crazier price tag of nearly $3,000. I had a chance to test the Brompton P Line for a few weeks and had mixed feelings about the bike.
Unboxing Video
Specifications
| | |
| --- | --- |
| Weight | 21.8 lbs |
| Folded size | 25.3″ (H) x 23″ (W) x 10.6″ (D) |
| Frame | Precision drawn heat-treated steel tubing with hand brazing |
| Rear frame | Superlight Advance rear frame made from Titanium with a replaceable hanger |
| Fork | Titanium fork with a threaded headset |
| Drivetrain | Brompton 4 speed drivetrain, 163% range |
| Saddle | Superlight saddle with chromoly rails, carbon reinforced base and lightweight padding. |
| Seatpost | Brompton Extended Chromoly steel tube – gloss black. |
| Grips | Superlight lock-on grips |
| Seatclamp | Machined aluminum seat clamp and rear frame clip in anodized matte black finish |
| Pedals | Brompton Folding left hand and non-folding right-hand pedals |
| Hinge clamps | Machined aluminum hinge clamp levers and plates anodized matte black finish |
| Front Wheel | Superlight front wheel – Lightweight rim, double-butted spokes and aluminum hub body |
| Rear Wheel | Double wall rim, double-butted spokes and aluminum hub body |
| Tires | Schwalbe ONE Black Tire |
| Tubes | Schrader |
| Chainset | 6061 forged aluminum crank with 50T chainring and integrated chainguard |
| Bottom Bracket | Square taper bottom bracket |
| Derailleur | Patent-pending direct mount 4 speed derailleur |
| Sprockets | 11-13-15-18 Tooth |
| Shifters | Brompton 4 speed trigger shifter |
| Chain | Hollow pin Superlight Advance Chain |
| Chain Tensioner | Advance chain tensioner with replaceable hanger mounting |
| Brakes | Dual Pivot Calipers |
| Headset | Superlight headset |
| Front carrier | Front carrier block adaptor for Brompton luggage |
| Fenders | New curved profile with updated Fenders flaps |
| Lighting | Brompton 500lm Front Light |
Product Images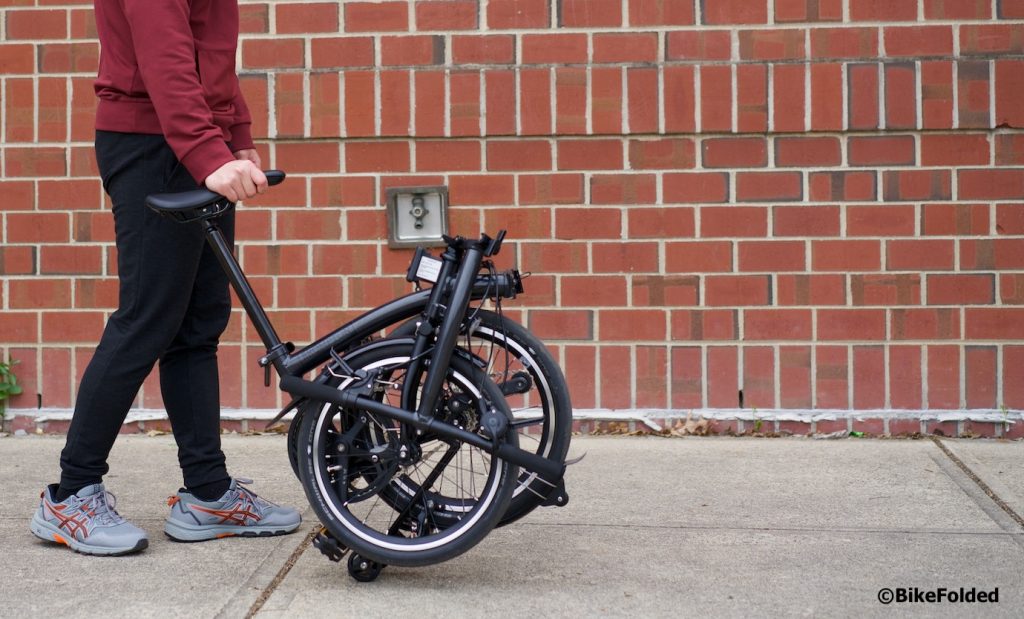 Performance
The P Line weighs just over 21 lbs but it is no longer the lightest Brompton bike after the T Line with titanium frame is released. As compared to my previous Brompton, the P Line is still significantly lighter. Although the main frame is still made of steel, the rear frame and fork are made of titanium. After testing some heavy bikes recently, it was a huge relief to deal with this Brompton; I can easily lift it up and carry around with one hand.
A notable change of the bike is the larger and lighter rolling wheels; This is very useful when you fold down the bike and want to push it around without lifting it up. The seatpost can now be locked at two different heights; You can set it at the lower level for more compact storage. At the higher height, you can roll the bike around by pushing the saddle. Unfortunately, I didn't have good experience pushing the bike around; It works fine on smooth roads but has many troubles on bumpy ones. Since the head is lifted up, the suspension block gets very close to the ground and can be damaged if you're not careful. It made a huge scratch on my wood floor when I pushed it in the living room. This is quite a bad design in my opinion. If you really want to roll the bike, you should consider buying a roller frame which is a rear rack with a pair of small roller wheels.
The folding mechanism of this P Line is the same as any other Brompton and I love it. The whole process is so smooth and quick, and the folded size is super compact. Once you get used to the process, you can easily fold or unfold the bike in 10-15 seconds. I've seen some people fold and unfold it in less than 10 seconds. I've tested some Brompton clones but none of them could perfect it like Brompton did.
Another important update is the 4-speed gearing with a cassette instead of an internal gear hub. It provides a similar gear ratio to the 3-speed hub. The gear range is not as wide as my previous 6-speed Brompton but I actually prefer this 4-speed bike because it is so easy to switch gears and helps reduce the weight. Obviously, the Brompton is not ideal when you have to climb a lot of hills; I even had to walk the bike sometimes because it was so exhausting riding uphill.
The Brompton looks a little peculiar but the riding experience is actually much more stable and comfortable than I could imagine. Of course, it is not as fast and powerful as road bikes; I mostly used it on paved roads and bike paths, and was totally satisfied with the performance.
Conclusion
Pros
Lightweight with titanium and steel frame
High-quality build and sleek look
The iconic design with quick folding and unfolding process
Cons
Expensive
Difficult to roll
Suitable for urban riding only
The P Line is an elite folder but I can't justify its $3,000 price tag. I spent just over $1,600 for my Brompton a few years ago and I wouldn't spend more than a thousand just to shave off 3-4 lbs. I'd expect a full titanium frame at this price range; I love the bike but can't recommend it at this time.
Disclosure: I might earn commission from qualifying purchases. We use the commission to maintain the website, buy new products and create content for free, so thank you!